Dir. Tom Hooper. UK. 2009. 97mins.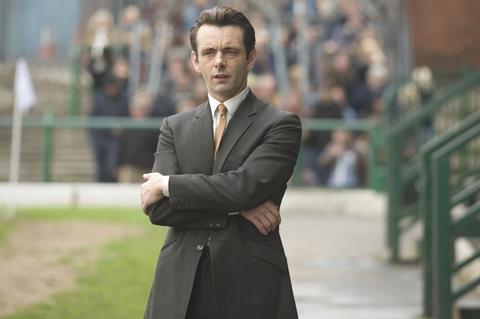 Offering just enough football to satisfy the fans in the stands, The Damned United is also a pleasingly high-quality British drama with some terrific performances which should easily entertain those who come to the game without knowing what a 50/50 challenge is. While it's set for healthy returns in the UK where it should fall between the Peter Morgan/Michael Sheen teaming on The Queen (2006; UK gross $18.3m of a $122.8m cume) and Frost/Nixon (2008; UK gross $2.6m from $26m), The Damned United may struggle to make an impact in overseas markets. Sony's marketing nous will be needed in all territories - including the UK - to keep footballers onside while persuading all other demographics that it's about more than men with accents in polyester tracksuits and sheepskin jackets. Good notices will help.
A deft re-telling of David Peace's fictionalised account of mercurial British football coach Brian Clough's brief, 44-day tenure as coach of Leeds United in 1974, The Damned United may appear to fall inside a tight brief but works best outside the field of play as a character study and portrait of male friendship and rivalry. There's no denying its period appeal, either. Highlights include an impressive turn from Sheen as Clough with Timothy Spall trustily solid as his lieutenant, Peter Taylor; Morgan's nimble reframing of the book; and evocative production design which deftly replicates 1968-74 Northern England (where ashtrays were handed out in the players' dressing rooms) without itself becoming the star of the show.
Morgan and Sheen's work together on The Deal, The Queen and Frost/Nixon is practically a brand at this point: the audience knows what to expect, and that's strongstorytelling. In The Damned United Sheen in particular moves a step past impersonation to inhabit the unpredictable Clough. The film's episodic structure - Hooper starts out in 1974 and moves perhaps a little too often backwards and forwards to 1968, 89, etc - makes for a jerky beginning but once it settles down, The Damned United commands attention.
The two main thrusts of the drama are Clough's intense rivalry with former Leeds manager Don Revie (Meaney) and his friendship with right-hand-man Taylor (Spall), all playing into the drama of the beautiful game and Clough's bombastic, paranoid, insecure nature. It's a dream of a role for Sheen, portraying a man, who, on his first day as manager tells the League Champions to throw away their medals because they 'won them all by cheating'.
The Damned United could possibly have benefited from more scenes with the Leeds players to visually open it out more - Stephen Graham as the team's thuggish captain Billy Bremner gets some amusing play, but Peter McDonald as Johnny Giles barely registers (legal issues possibly came into play here; all the other principals are dead). A decision to stage a key match in the managers' office behind the stands works a treat dramatically, though, and it's a nice showcase for cinematographer Ben Smithard's visual flourishes, which register throughout.
Clough's hubris leads him to part ways with Taylor - the film doesn't get into the nub of why until late in the game. It's rare to see a film without any female presence and it would seem counter-intuitive for a female audience, but Morgan's clever emphasis on the nature of male relationships makes for a warm and human drama. Meaney and Jim Broadbent, as the chairman of Derby County where Clough, as the UK's youngest manager, first made his mark, work well in support.
Tech credits are impressive. It's hard to make a good footballing drama - the sidelines are littered with the fallen. But The Damned United should be a benchmark in the UK: the indisputable visual evidence says so.
Production companies
Left Bank Pictures
BBC Films
Screen Yorkshire
International distribution
Columbia Pictures/SPRI
Producer
Andy Harries
Screenplay
Peter Morgan, based on the novel by David Peace
Cinematography
Ben Smithard
Costumes
Mike O'Neill
Production designer
Eve Stewart
Main cast
Michael Sheen
Timothy Spall
Colm Meaney
Jim Broadbent
Stephen Graham
Peter McDonald