With the UK market growing for theatrical documentary releases, Geoffrey Macnab looks at how distributors and exhibitors are planning event releases and dedicated screens to appeal to documentary lovers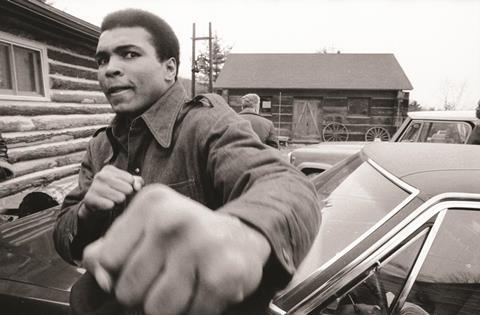 Every so often a documentary juggernaut - a Michael Moore film, a Touching The Void or a The Imposter - will outperform fictional films at the box office, but they are still the exception.
At the International Documentary Festival Amsterdam (IDFA) at the end of last year, Esther van Messel, managing director of Switzerland-based documentary sales specialist First Hand Films, pointed out TV sales accounted for more than 90% of the company's turnover. The bottom line still appeared to be producers who wanted to make money from their documentaries needed to present them in formats suitable for broadcasters.
That is why the UK market appears so incongruous. Look through the list of 2014 cinema releases and you will see an astonishing number of documentaries were released theatrically - around 80 titles, not including event releases of opera and theatre. Everybody was releasing documentaries: small indie distributors and the UK arms of major studios alike.
The titles seen in UK cinemas last year ranged from tiny but highly inventive films such as Toby Amies' The Man Whose Mind Exploded, about a camp eccentric with no short-term memory, to heavyweights such as Universal's I Am Ali and Sony's Merchants Of Doubt.
There is further evidence documentary in the UK, at least, is increasingly targeted at the big screen. Remarkably, two new cinemas in London's West End have confirmed screens will be set aside for documentaries.
Picturehouse Central - a seven-screen, 1,000-seat cinema complex housed in the West End's Trocadero entertainment centre that will be opened by Picturehouse Cinemas in May 2015 - will have a screen reserved for documentaries.
A documentary will always be featured on one of the theatre's screens, which will seat from 70 to 350 viewers. "There will be a full programme of documentaries running all the time," says Picturehouse director of programming and acquisitions Clare Binns.
Picturehouse Cinemas' distribution arm, Picturehouse Entertainment, is continuing to acquire documentaries in increasing numbers.
Meanwhile, London's renovated Curzon Bloomsbury, due to open in February, will likewise have a screen, the Bertha DocHouse Screen, reserved for documentary. This will be programmed by DocHouse, the year-round documentary 'festival', and supported by the global philanthropic organisation Bertha Foundation.
"We like to think of it as a documentary centre," DocHouse director Elizabeth Wood commented of the new Curzon screen, which, she says, will be "entirely independent" in its programming.
The distribution gamble
UK distributors are increasingly committed both to picking up documentaries and to ensuring the titles are seen first in cinemas. UK theatrical buyers and sales agents are present in increasing numbers at key documentary events such as Sheffield Doc/Fest and IDFA.
"We always believed that a good film should be in the theatre," says Dogwoof founder and chairman Andy Whittaker. He points out that big name directors such as Steve James (The Interrupters), Errol Morris (The Fog Of War) and Gabriela Cowperthwaite (Blackfish) are always likely to gravitate towards distributors that are committed to putting their films in cinemas.
Another UK distributor, Kaleidoscope, has just announced it is setting up its own dedicated documentary brand, Spectrum, in early 2015.
"We are known for our documentary output, and we have been putting out documentaries for a number of years," says Adam Sergeant, marketing director at Kaleidoscope Home Entertainment, which has released titles including Sundance selection We Are The Giant and tennis story Venus And Serena.
"So it was a natural process to create a consumer-facing brand to give our documentaries a bit more cut-through and a bit more stand-out wherever they may be seen, be that in the digital space, the theatrical space or the home-entertainment space."
Spectrum kicks off with the January 15 theatrical launch in the UK of Libyan revolution story Point & Shoot directed by Oscar nominee Marshall Curry. Further releases will be the digital release of Oscar nominee The Square on January 17 and the theatrical release of Cold War story The Man Who Saved The World.
Sergeant is quick to point out Kaleidoscope never looks at the theatrical release of its documentaries in isolation. The "value" of any given film will be assessed on how it might work in terms of a digital release and TV potential as well as in the cinemas. The company does not release all its documentaries theatrically.
"Different products that come to us will [arrive] at different stages of their life cycle. Many we get involved in at pre-production. Some may already have TV deals in place through broadcasters like Netflix. Of course, that's going to inform our release strategy hugely."
But he adds: "We try to buy quality documentaries and quality output that will generally have a more theatrical feel to it. The majority of the product will certainly be intended for theatrical release." So why has there been this sea-change in the UK film industry's attitude toward documentary?
Eve Gabereau, managing director of Soda Pictures, points to the explosion in the number of feature documentaries being made.
"We get pitched [documentaries] at every market, every festival, every time we meet with a sales agent or a producer. The list of documentaries is vast. There is so much choice," she says.
Another obvious reason for documentaries turning up in such numbers in UK cinemas is that films such as Touching The Void, Man On Wire, The Imposter or One Day In September were made as if they were feature films. They set out to provide cinematic spectacle. It is clear distributors have become much more effective at targeting specific audiences - and at using social media to promote campaigning documentaries. For example, Dogwoof was able to promote its ethical fishing documentary, End Of The Line, in Waitrose supermarkets around the country.
There is also evidence cinema bookers are becoming more adventurous. "I'm a firm believer people do enjoy different content. Not everyone wants to see an action movie on a weekly basis," says Sergeant.
A note of caution is necessary. "It's a tough marketplace. You get a handful a year that cut through and work [in cinemas]. The vast majority don't," says Rupert Preston, co-CEO of Vertigo Films. He also points out "ancillary is quite small. It's not a genre that suddenly overperforms on ancillary compared to theatrical." There is also the question of economics with a TV sale. UK broadcasters can still be reluctant to take documentaries with which they are not already involved.
"Television thinks that if they haven't already pre-bought it or were involved in commissioning it, then it's probably not worth it," is how one distributor puts it.
The UK broadcasters are involved in making so many documentary films themselves they are not always eager to acquire titles from theatrical distributors. Broadcasters may also want to cut the film to fit timeslots, something that is unlikely to appeal to big-name auteurs. At least distributors can now turn to ever-more TV outlets - Sky and Netflix as well as the BBC and Channel 4.
Event horizon
Distributors also point out it is still tough to secure full-week runs for documentaries at UK cinemas. "You don't get seven-day bookings. You get one-day bookings. It's hard to generate any money really," says Preston.
This is why event screenings of documentaries are becoming so important.
Picturehouse recently hosted a national 230-screen showing of Hockney, about UK artist David Hockney, complete with a live satellite broadcast from his studio in Los Angeles.
Vertigo organised a similar release of its Stephen Hawking documentary, Hawking, which it is repromoting to tie in with awards favourite fiction title The Theory Of Everything. Soda is planning an event screening of Frederick Wiseman's National Gallery at… the National Gallery.
"You might make much more in one day than you would in a week of shows here and there," Gabereau says of the attraction of the multi-screen event release.
Distributors also point out documentaries can have long legs. Their fate is not determined on the opening weekend. The theatrical release is often used to alert viewers to the existence of a film. As Sergeant says:
"Theatrical has a huge profiling value for good quality product." The film will tend to be available to download or buy on DVD soon afterwards as windows tend to be shorter for documentaries than for dramatic features.
"It's very hard for a documentary to make money theatrically," acknowledges Kaleidoscope's Sergeant. "We tend to look at it more as a holistic goal. We'll run our numbers based on [the film's] life cycle and what it can bring to us across the digital spectrum and the home entertainment spectrum as well."
Even if very few documentaries are going to break box-office records, distributors all agree the UK's documentary market is vibrant and potentially lucrative. That is why there is no sign of UK cinema's documentary gold rush ending any time soon.