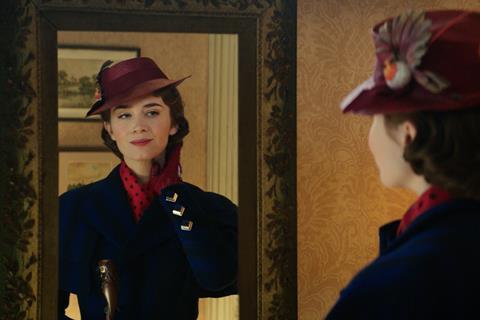 Take a look at the productions that have shot recently in London, and it reads like a who's who of cinema's biggest and best-loved characters.
From Warner Bros' Wonder Woman to Disney's Doctor Strange, Mary Poppins Returns and Solo: A Star Wars Story, a plethora of ambitious and valuable properties are being entrusted to the capital. For high-end TV production, London has recently hosted TV series as diverse as the third season of The Crown and The Innocents — both from Netflix — AMC's The Little Drummer Girl and Amazon's White Dragon.
London's continuing ability to attract high-profile projects has contributed to record-breaking levels of UK production spend. British Film Institute stats published in January revealed that total spend on film production in the UK during 2017 was $2.6bn (£1.9bn), a 12% increase on 2016 and the highest figure since its records began over 20 years ago, with $2.3bn (£1.69bn) — a 23% increase from 2016 — of that being from inward investment. Similarly, inward investment for high-end TV production showed substantial growth, with a spend of $931.5m (£684m) being a 27% increase on 2016.
This continued growth is helped by the fact London's offering as a global production hub remains broad and reliable. Firstly, the UK's competitive tax relief remains available for producers of films, high-end TV, animation, children's programmes and videogames that qualify as British and spend a minimum 10% of budget on UK production.
"When you take into account the tax incentive, our fantastic and burgeoning studio facilities, the talent we can offer both in front of the camera and the skilled craftspeople that make up our crews, plus Film London's work in co-ordinating all of these assets for both domestic and international filmmakers, what you have is a full-service hub that's almost unparalleled anywhere else in the world," says Film London chair and Director of Film4 Daniel Battsek.
"As well as being important in its own right, London is equally vital as a gateway to the rest of the UK," he continues.
"I think it's fair to say this is the most exciting time for our industry in living memory," says Adrian Wootton, CEO of Film London and the British Film Commission. "Things are changing at an exponential rate, and the boom we're seeing in London and across the UK represents a truly golden moment for our screen industries.
"Our success in the global film industry represents a constant, from studio work to location shoots and the envelope-pushing work of our Oscar-winning VFX facilities. Working at this level does mean a certain amount of challenge. That's why we've redoubled our efforts when it comes to ensuring London continues to deliver, by expanding, upskilling and diversifying the city's talented workforce and ensuring a through-flow of above- and below-the-line talent."
Equally as important, says Wootton, is the development of new filming spaces, alongside established studios such as Pinewood, Twickenham and 3 Mills. Plans for a 22-acre film studio in Dagenham are moving forward apace, with Barking and Dagenham Council working with US production facilities specialist Pacifica Ventures and private equity firm Media Content Capital. Construction is due to get underway in 2019. Film London is also working to put sustainability at the top of the agenda, running a regional scheme to help productions like The Crown go green while also partnering on a major $2.3m project funded by Interreg Europe.