Project supports new film talent from leading international film schools.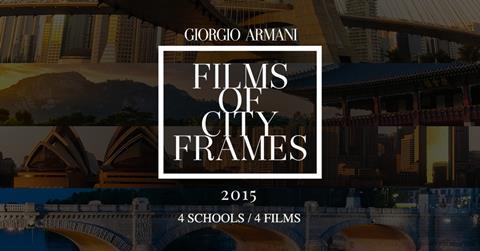 Giorgio Armani's Films of City Frames project has joined forces with the BFI London Film Festival for its second edition and will showcase titles to audiences at the festival in October.
Created in collaboration with Luxottica and Rai Cinema, the project involves promising students from a selection of international film schools, who will be asked to create a series of short films.
The schools for the second edition are:
Scuola Holden – Torino
Academia Internacional de Cinema – São Paulo
Sydney Film School – Sydney
Seoul Institute of the Arts – Seoul
Students will be given the task of making short films inspired by real lives – tales told through the eyes and emotions of characters filmed in the context of their daily lives.
Glasses from the Giorgio Armani Frames of Life collection will be the element that unites the stories, and will play a narrative role - not one that is purely aesthetic.
Each film will be set in the city where the film school is located.
In this second edition, Rai Cinema will once again oversee the creation of the films during all stages of production, from the evaluation of the script to editing and postproduction.
The short films will be presented in October at the 59th BFI London Film Festival (LFF).
The first edition of short films was presented in 2014 at the Toronto International Film Festival.
LFF festival director Clare Stewart said: "Giorgio Armani is as passionate as we are about discovering, supporting and showcasing new talent and that's why we're thrilled to be working together on the second edition of Films of City Frames."
The various production stages of the short films will be showcased on a dedicated section of the website www.framesoflife.com – live from today – and on Armani's social media channels.