SCREEN SUBSCRIBERS: Singapore's thriving Asia TV Forum & Market is designed to offer real insights into how to reach Asian TV audiences. Silvia Wong reports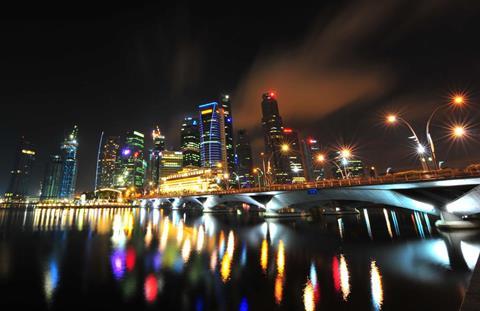 Scroll down for titles with international potential
The Asia TV Forum & Market (ATF) in Singapore is the place to go to sell international TV content to Asian buyers. The 16th edition will run concurrently with the 5th annual ScreenSingapore at Singapore's Marina Bay Sands from Dec 1-4.
This year it aims to deliver more events than ever in an effort to consolidate its growing importance in the Asian industry.
According to organisers, last year saw a record 4,800 professionals attend the event and sales transactions worth $256.3m. The three-day market garnered 658 exhibitors while 71 speakers shared their expertise over the four-day conference programme.
One of the major themes of this year's conference will be how to harness the potential of digital to buy, sell and distribute content in Asia. "As consumer patterns evolve and technological advancements continue to play a strong role in moulding viewers' preferences, digital involvement will be a key aspect for buyers and sellers alike within the film and TV industry in the years ahead," suggests senior project director Yeow Hui Leng of organisers Reed Exhibitions Singapore.
This year's keynote speakers are DJ Lee, president of media content business at South Korea's CJ E&M, who is giving a talk called 'Into the Future of Television: Asia's Move Forward', and René Rechtman, head of international at the US's Maker Studios, whose talk will explore development and expansion in Asia's digital marketplace.
Further conference topics include 'Asia: The Big Picture — The Future Of TV And Visual Entertainment' and 'Driving the Shift: Native Players, Digital Strategies', which will address how the world's leading broadcasters are adapting their businesses to tackle the ways audiences consume content, while Asia's top buyers will share their insight about the changing role of international acquisitions in 'What Do Buyers Want?'
What will sell?
The ATF market will house 16 official pavilions, including new entrants Spain and the UK. More exhibitors are coming from China and Japan to sell content, while companies taking stands for the first time include Bloomberg, Fox International Channels and Studiocanal.
The preferences of TV audiences may change continuously but there seems to be an increased interest in lifestyle and travel programming, according to Lyn Nasihin, content sales manager at Primeworks Distribution, a subsidiary of Malaysia's largest free-to-air broadcaster Media Prima. "Many broadcasters are looking within Asia for content that is relatable and closer to home," she says. "Our Islamic documentaries are also a popular choice for many of our Asian clients as the interest in Asian cultures, beliefs and people are consistent with their audiences."
Yeow adds: "Genres such as drama, animation and comedies have a strong foothold in the Asian market. Unscripted entertainment such as talent reality TV shows are recording high viewership too with successful international show formats being adapted for local markets such as Asia's Got Talent, Asia's Next Top Model and MasterChef Asia, and regionally produced favourites such as Super Brain, I Am A Singer and Running Man."
ScreenSingapore, which positions itself as Southeast Asia's leading marketplace for filmed entertainment, is launching the first Southeast Asian Film Financing project market, organised by Southeast Asian Audio-Visual Association in collaboration with Ties That Bind co-production workshop from Europe. Ten projects, including films, animations and feature-length documentaries, have been chosen.
ATF and ScreenSingapore are the sister shows to Reed Exhibitions' MIPTV and MIPCOM. Last year, both events were part of the inaugural Singapore Media Festival (SMF) for the first time. It is hosted by the Media Development Authority of Singapore (MDA) to promote creative collaboration and investment opportunities.
The SMF also comprises the Asian Television Awards, which will be broadcast live for the first time to celebrate its 20th anniversary; the Singapore International Film Festival, which is introducing an audience choice award; and a new event called Digital Matters.
Launching Indie Films
The Singapore International Film Festival is a vital regional launchpad for local independent films. Silvia Wong selects those with the most international potential from its 26th edition (Nov 26-Dec 6).
Singapore Minstrel
Dir Ng Xi Jie
WORLD PREMIERE: In her debut feature-length documentary, multi-disciplinary artist Ng Xi Jie offers a personal look at Singapore's busking community, including its icon Roy Payamal.
Contact Small Moon Projections - galaxyladybird@gmail.com
The Songs We Sang
Dir Eva Tang
WORLD PREMIERE: Through an in-depth look into Xinyao, Eva Tang's debut feature documentary captures the spirit of the 1980s music movement as well as Singapore's social and cultural identity.
Contact Eva Tang - evatangfilms@yahoo.com
Voluptas
Dir Sanif Olek
WORLD PREMIERE: Award-winning TV director Sanif Olek's second feature is a romantic thriller shot in a freeform, storytelling style and in Malay language — rare for a contemporary Singapore film.
Contact Sanif Olek - reeljuice@gmail.com
5 To 9
Dirs Tay Bee Pin, Vincent Du, Daisuke Miyazaki, Rasiguet Sookkarn
Set during the evening of the Brazil-Germany match at World Cup 2014, this omnibus film reunites four film-makers from 2014 Berlinale Talents, including Singapore-based producer-director Tay Bee Pin.
Contact Mosquito Films Distribution - donsaron@mosquitofilmsdistribution.com