Industry event unfolding in French port town of La Rochelle unveils project awards, sets Asian Side of the Doc dates.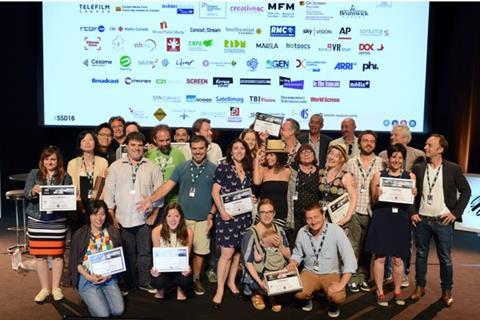 UK director Adam Wakeling's upcoming documentary Ghosts in the Machine, revolving around sustainability economist Tim Jackson, has won the prize for best global issues project at Sunny Side of the Doc.
It was among some 20 prizes given out to upcoming projects at the documentary industry event running June 20-23 in the French port town of La Rochelle.
Other key awards went to French animal kingdom specialist Frédéric Fougea's Prodigies, exploring the long relationship between man and dog, for best natural history and wildlife project. It shared the prize with Jeff Morales' The Secret Life of Owls.
Born in Auschwitz, by award-winning Hungarian filmmakers Eszter Cseke and Andras S. Takas, won best history project, and The Portrait of the Rainbow about Singaporean celebrity photographer Leslie Kee's exploration of what it means to be gay in Japan was named best Asian project.
Ghosts in the Machine marks Wakeling's second major documentary work after his environmentally focused Up In Smoke, which premiered at Sheffield Doc/Fest in 2011.
It follows former UK government economist Tim Jackson as he develops a macro-economic model based on sustainability rather than economic growth.
The project received development funding from the European Union's MEDIA programme as well as Germany's NRW Film und Medienstiftung fund with Sweden's SVT on board as one of the first broadcast backers.
More than 2,000 delegates from 53 countries attended this year's edition of Sunny Side, an industry-only event focused on documentary projects as well as service providers across the entire documentary-making chain from shooting equipment to archives.
New dates for Asian Side of the Docs
The next date on the calendar for Sunny Side founder Yves Jeanneau and his team will be Asian Side of the Doc.
Jeanneau announced the event will be held in Bangkok from Nov 1-4, 2016.
This year's Asian event was due to take place March 21-24 in the Chinese city of Suzhou but was cancelled due to censorship concerns and logistical issues.
"Given the growing interest shown by the international documentary community in the dynamic Asian factual market, we had to be sure that Asian Side of the Doc keeps on providing a relaxed and friendly environment to foster valuable networking and business relationships with major players in the pan-Asian industry," said Jeanneau.
Sunny Side of the Doc Markets is teaming with Thai public broadcaster MCOT and Panorama Worldwide on the event.
Key Sunny Side of the Doc Awards:
Best Natural History & Wildlife Project
Prodigies (Boréales, France)
The Secret Life of Owls (Believe Media Inc., Canada)
Docunexion Jury Mention
Road Fukushima (Kami Productions, France supported by Cap Digital and Pôle Média Grand Paris)
Best Digital Creation Project
Feet Up (Makila, Canada)
Best Global Issues Project
Ghosts In the Machine (Notion Pictures Ltd, UK)
Best Arts & Culture Project
Grimm Tales (Proximity Films, Canada)
Best EUROVISION Science Project
Hormones & Huffs – The Science of Puberty (a&o buero filmproduktion, Germany)
Best Asian Project

The Portrait of the Rainbow (Tenjin TV Production, Japan)
Best History Project
Born in Auschwitz (Spot Productions, Hungary)
Sonuma Archives Award
1968 – The Awakening (Gebrueder Beetz Filmproduktion, Germany)