The directorial debutant behind Latvia's foreign-language Oscar submission talks to Jeremy Berkowitz about growing up, his filmmaker influences and what two Lats can buy you today – or not.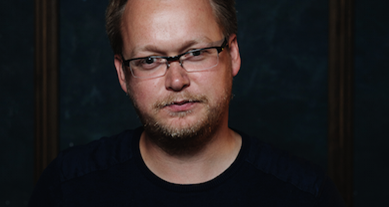 The Red Dot Media drama has been a popular film on the festival circuit and centres on a Latvian teenager whose gambling problem affects his relationship with his mother.
Modris is a very existential character. I was wondering if the film was heavily influenced by existential fictional works such as Camus' The Stranger?
The film is heavily influenced from actual events. I can't say that it's based on actual events, as some story lines are fictional, but the main backbone – the conflict between Modris and his mother, the stealing and judicial consequences – are all from actual events. For me this true story had everything about the relationship between children and parents, state and its citizens.
The only pleasure that Modris ever seems to enjoy in is gambling. Why did you choose this to be his vice?
It's a form of escapism. There is no real communication between him and mother, therefore he has to find what to do himself. He's somehow locked in this block house neighbourhood where there is little to do. Slots are easy to find and many choose to do so. I remember from my years in high school that some of my friends used to go and play these machines every day because they had nothing else to do.
The film feels so real and alive. Is it at all autobiographical in any way?
The neighbourhood where the film takes place is where I grew up. The places where he goes – school, market, etc – are where I used to go as a kid. When writing the script, this district of Riga seemed best suited for the story. Looking back and probably even now, there are so many Modrises around there.
Another reason the film feels so real is the long takes. I noticed sometimes entire scenes were crafted in beautiful, hidden, long takes. Were scenes like the one with his girlfriend's family dinner improvised or scripted?
Both. First you have to know that none of the actors had read the script. We had improv sessions while preparing. We played out certain scenarios, situations. I introduced the actors to real-life prototypes. As a result I had written out the best from the improv sessions and integrated them into the script. Then, when shooting, the actors got the script by scenes – just an hour before filming the actual scene. The lead actor found out the whole story only on the last day, before filming the last scene.
Did the actor that played Modris, Kristers Piksa, ever laugh on set?
All the time. He's actually a very cheerful guy. When looking at the set photos you can see us all smiling.
Was there any a moment of laughter on set for the whole cast and crew?
There's one blooper which I remember the best: it was at the bar scene. Kristers and Inese Pudza, who plays the bartender, had great chemistry and at one point they changed their roles and Kristers was playing her and she was playing Modris. Everyone was holding their stomach from laughter. I think the scene even went viral on social media.
Do you think Modris will ever learn his lesson? Does he really not care about anything or does he just act like it?
We all know that being a teenager is something, well, different. I think Modris has blocked himself, because he has felt hurt. I think this projects him as a person who doesn't care. I believe in him and I do think he will rise.
Modris is constantly asking people for two Lats so he can gamble. What would you do with two Lats?
Modris was the last film made when there were actually Lats. Now there are Euros. I guess I would buy some candy for my kids.
What are crews and facilities like in Latvia? Is it a good place to shoot and is the local industry growing?
Latvian industry's strongest side is the technical one. We have great people in all departments. My Polish DoP Bogumil Godfrejow wants to take our Latvian gaffer to his next European project. The thing our industry is struggling with is scripts. I don't know why this is. Maybe the curse for a nation of two million people. Nevertheless the industry is developing. Locally about two to three films are made a year, but a lot of services are provided for foreign films.
What have you done before and how did you get your training?
While studying I worked as a foreign news correspondent for Latvian TV. Then I moved on to medium-length documentaries and later to fiction. I have an MA in film directing from the Northern Media School in the UK, but to be honest, my main training comes from just watching a lot of movies.
What are your filmmaking influences?
It has differed from time to time, but to put in one sentence it's been the new waves of Italy in the 50's, France in the 60's, the US in the 70's and lately the Romanian New Wave. What I like about these films is their honesty and focus on the character. During these new waves, filmmakers find the nerve of that time. For Modris a very strong influence was Who's That Knocking At My Door by Martin Scorsese [1967], because the film was so personal to the director.
What are you doing next?
A tough story about butcher Oļeg, who leaves for Brussels in order to earn a decent salary at a local meat factory, yet his hopeful life turns into a desperately hopeless one when he falls under the control of polish criminal Andrzej. This film is based on actual events and shows an ever-growing problem here in Europe – how people are manipulated in a modern form of slavery.