Screen spoke to Scott Graham about Edinburgh world premiere Iona and how Bruce Springsteen has inspired his next film.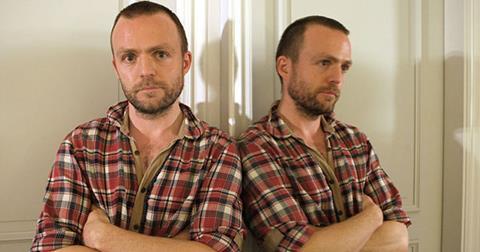 Glasgow-based writer-director Scott Graham, a 2011 Screen Star of Tomorrow, made his debut feature with Shell in 2012, after making a series of award-winning shorts.
His second feature, Iona, premieres on June 28 as the closing night gala of the Edinburgh International Film Festival. Verve Pictures has picked up UK rights.
Ruth Negga plays Iona, a woman named after the Hebridean island of her birth. After running away from Iona as a teenager, she returns years later with her teenage son after they are involved in a violent crime. With her return, she dredges up past hurts among the islanders, who live in a tight-knit religious community.
Is this an idea you've had for a while?
The shoot for Shell got delayed by six months, so I started the script then. I had the first 30 pages. The idea had been kicking around for a little while.
I visited the island when I was ten with my mum and sister and it never really left me. [When I was 10] I asked why people went to the island and I was told 'to be close to God.' Some things just stay with you.
As I was developing Shell someone asked me about conflict within families and the parent-child relationship, and I thought that might be something I'd continue to explore. Then I came to this idea of someone going there who doesn't feel close to God. She has a sense of anger about being there. It is a very peaceful place, but not for her.
Second features can be hard to get off the ground, but you had backing from BFI and Creative Scotland?
The reaction to Shell was better than I thought it might be, I just kept talking to the people who had supported Shell, like [the late] Chris Collins at the BFI. I owe a lot to him. He commissioned the development of Iona. And then I met Lizzie Francke through Chris, around the time Shell played at the London Film Festival [in 2012].
At Creative Scotland, Robbie [Allen] has been involved in everything I've done since I started making shorts. Ross Mackenzie was the executive at Creative Scotland, they've always been great to me and they work really well with the BFI.
What's your writing process like, do you have a strict routine?
I do have a bit of a routine or else I don't really get work done. I swim in the mornings and then come back and start work. In the early stages of the writing process it can be a bit sporadic.
Once I'm writing the script I do very long days and forget to eat and that kind of thing (laughs). I tend to go back and forth in working out what this film is about while I'm writing it. I start with an outline, what I'm trying to say is constantly evolving.
What are the themes you're working with in Iona?
I think there's that sense of old pain. There is a sense of the damage you can inflict on yourself and on those around you, not just your children. Iona is not just a parent, she's a child herself, picking up where she left off.
This idea of where you came from, familiar history, and where conflict comes from… And to some extent it's about how violence against women doesn't just affect women but it also affects their children, their families… it can spread.
Ruth Negga's performance as Iona is so pivotal to whether this film works or not. How did you cast her?
I met a few different actresses when we were casting. I didn't know her work, actually. I got to know it, she had that sort of electricity when we met. She read a scene for us. There was a sense of being able to see Iona as a child in Ruth and that mixture of vulnerability and defiance and volatility was bubbling away with her.
You worked with a big new talent, Chloe Pirrie, in Shell. And in Iona you've got two more impressive newcomers.
There was something about the two of them [Ruth Negga and Ben Gallagher] that worked together. Casting can be a puzzle and sometimes pieces just fit. Ben is at drama college in Glasgow. In some ways, when you are casting someone that young who is not a professional actor, you approach it as you're looking for someone close to the character.
But Ben is different to Bull, he's quite chatty. There's an innocence there, and a complete lack of awareness of just how innocent he is. There was a sense of that character when I met him.
Sorcha Groundsell (who plays Sarah) is studying in Glasgow but this was her very first role. She grew up in Lewis so that island life is familiar to her. She's brilliant…she's really instinctive and alive. I feel like we've only scratched the surface of what she can do.
How did you prepare the actors for the shoot? Do you like to workshop and rehearse?
With the younger actors we did workshops. I spent a lot more time with Ben and Sorcha than I was able to with the other actors because they were all working. We started with 50 to 60 teenagers reading with each other and we whittled it down with Ben and Sorcha.
I think they think I went silent on them once they got the part. I left them alone to get ready — you can't really circumvent nerves and questions and fears coming into a role, and I think talking doesn't really help and sometimes talking can get in the way.
I did everything I could to make them feel they were ready. I wanted them to be able to go on their instincts and not think too much. We'd talk about anything, not just the film.
I lived with Ben on the island, we shared a cottage, we hung out, we just talked about life and people and everything he's interested in. All that's useful to me.
The island of Iona is a character in itself, how did you and your DoP Yoliswa von Dallwitz discuss how you were going to shoot the landscapes?
He'd actually been to the island as well when he was young. We went back there in early spring (before our summer shoot) and we wandered around with the script and with Derek Yeaman, our location manager.
I remembered a lot from when I was young. I dragged them around looking for certain spots. For example, I was looking for those rocks where Iona hides. I did more talking with Yoliswa than with the cast.
The landscape is quite important in Shell as well. There is a sense of isolation. With this I wanted a more direct conflict with Iona and the island. She's almost at war with it. There are times where I wanted her to do something and I wanted the island to respond in a way. You are doing that with sound as well.
Did you have film references, or paintings, for the look and colour palette of the film?
We wanted something quite natural and rich, we looked at Claude Lanzmann's Shoah and we looked at Tarkovsky's The Mirror. They both use 1970s colour Kodak stock and there was a richness we really liked and that we thought was honest. With Shell, I think we slightly washed it out. We didn't want to do that this time. We wanted to leave it quite rich. The island at that time of year is quite green and the rocks are very red.
Was the island shoot a logistical nightmare?
The good thing is that the island is small. It's three miles long by about a mile and a half wide. There's one road to the north end and one road almost to the south. We had quad bikes and we walked a lot. We had my pickup truck to move things around. We were just a sort of documentary-style crew. We shot on the ARRI Amira, the sister model to the Alexa. So we were able to move fairly quickly.
Some of the interiors were on the mainland. We looked for everything on the island itself but it's not possible to get everything.
Did it feel like quite a step up from Shell?
In some ways it wasn't, really. It was a similar sized crew and budget (of under £1m). What was completely different for me was moving around. For Shell, we were on that one lot everyday…Iona had a lot more variety of locations to move around. There were some scenes - like at the ceilidh and the abbey - that felt like a step up. That was different for me and rewarding.
Why did you want to premiere it at Edinburgh?
A big part of it was Mark [Adams, artistic director] and Diane [Henderson, deputy artistic director]'s reaction to the film. I lived in Edinburgh in my 20s and saw a lot of films that influenced me.
Edinburgh was where I decided I wanted to become a filmmaker. I started writing scripts while I was working in coffeeshops and doing odd jobs there. I think it's a real privilege to go there…and it's nice for the cast to be close to home and invite their families. It's the first time the cast and crew will be there to see it.
What's next for you?
I've wanted to make a film called Born To Run for a while. That is set in my hometown of Fraserburgh. It's loosely based on a Bruce Springsteen song, which is very popular where I'm from because he sings about growing up in small towns and wanting to leave.
And he also sings about racing cars, which is very big where I'm from. So I have a story about the conflict between a father and a son. The story takes place over one day, which is new ground for me.