The Polish director talks to Screen about his feature debut, which will screen in Karlovy Vary's International Competition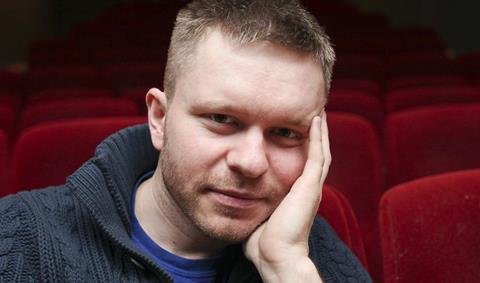 Polish director Grezgorz Zariczny first made an impact on the international scene when his superbly observed short documentary The Whistle won the Grand Jury Prize at the 2013 Sundance Film Festival.
Born in 1983, Zariczny's early career included working as a football referee and a folk dancer. But in 2008 he attended a documentary course at the Andrzej Wajda Master School of Directing and he soon graduated from the Silesian University in Katowice in a directing course taken at the Krzysztof Kieślowski Radio and Television Department.
After making his way in the world of documentary, Zariczny's debut feature Waves will see the director turn his attention to fiction. Playing in the International Competition at Karlovy Vary, the film sees Zariczny bring his documentary sensibility to a story of two young girls who want to escape from their surroundings. With some accomplished performances and stark cinematography, this film in the social realist mode is an impressive start from the young director.
Screen talked with Zariczny about the origins of the film and his hopes for Karlovy Vary
Screen: Where did the idea for Waves originate?
Grezgorz Zariczny: In 2015, I made a short, Love, Love. In the film, I showed the world of Kasia and Ania, two girls entering adulthood and training to become professional hairdressers. They came from the lower strata of society. They were out of the race before they'd left the starting block. It wasn't their fault. After the fall of communism in Poland in 1989, their parents couldn't cope with the new reality. I wanted to see whether the girls have any chance of changing their lot in life for the better. And the only way I could do that was with a fictional structure.
It feels very authentic with a documentary feeling to it. How did you go about casting the film and getting the actors who gave very naturalistic performances?
GZ: There were no auditions for the leading role. Ania, the central character, and her friend, Kasia, are the girls from my documentary short, Love, Love. When I was working with them during the filming, I couldn't treat them like professional actors. In order to provide the best emotional content for a scene, they reached for their own experiences. The other roles were played by professionals. I asked the casting director, Marta Kownacka, to arrange for them to film themselves on their phones while they were eating breakfast. I chose the actors who went about it most naturally. In that way, I managed to blur the difference between the professionals and the non-professionals.
How did you go about making the film? Was there a rigid script or was there a lot of improvisation?
GZ: After ten days of shooting, I cast the screenplay to the winds. I was left with not quite twenty days to create a work in my own cinematic 'language'. Ania and Kasia were the film's strongest emotional force. From then on, I focused my directorial efforts on them. A great many of the scenes were filmed in one continuous shot. Sometimes, it lasted an hour, with the camera running non-stop. As I listened to what was happening, I often walked into the shot and gave directions. Then, after hour-long shots like that, I chose the most emotionally tense minute.
Was it a film that was easy to shoot? How did your documentary background come into play?
GZ: The filming wasn't an easy time, particularly for the girls, who had decided to share a small part of their real lives with the audience. My task involved organising their stories as fiction and endowing that fiction with the right cinematic form. Having previously made documentaries, I knew that I had to protect them, that I couldn't let them say too much about themselves. Protecting their privacy was crucial. Feature films differ from documentaries in that, in a documentary, we're describing the world as it is, with its own dramatic composition, but in a feature, we create that world, endowing a dramatic composition upon it. Which is why, in the end, a feature is fiction.
Is there anything you'd do differently looking back on it all?
GZ: Of course. There's a lot that I'd change. I'm only just setting out on my filmmaking road. I made any number of mistakes on Waves. I still have an awful lot to learn. But developing my own, original method as I make more films is very important to me. I want to invite authentic people with their own world to work with me and to give them a fictional chance of changing their disadvantageous lot in life.
Did you have any influences? There seems to be a certain spark of the realism inherent in the likes of Mike Leigh. But did anyone inform your approach
GZ: Mike Leigh is a wonderful director. Naked and Happy-Go-Lucky are my favourite films of his. His most recent picture, Mr Turner, is also excellent. Completely unappreciated. But I didn't go looking for any inspiration at all when I was making Waves. I've collaborated with Weronika Bilska, the cinematographer on my films, from the outset and, in principle, we've developed our own way of looking at the world using a camera.
Given that your background is in documentary, what drew you to the world of fiction?
GZ: I wanted the central figures of my documentary, Love, Love to see that making an attempt to change their lot could do a great deal for them. And I wanted the film to be a way for them to spur on other girls in a similar situation.
You'll be premiering in the Karlovy Vary competition. What are you hoping for when the film screens?
GZ: I'm hoping that I'll make another film, using my own, original method. I'm counting on Karlov being my silent guardian, supporting my ongoing development. I'd like it if someone remarked that the lad from Poland is making original cinema, that he's still far from perfect, but well worth giving his next chance.
What will you be working on next?
GZ: I'd like to make a short documentary about some very young siblings, under-fives who have to cope with their parents' divorce. I want to maintain the unity of place, action and time throughout. In a playground. It's my belief that cinema dealing with macro issues needs to tell its tale on a micro scale. My next feature will also be structured like that. I want to follow the same path as I did with Waves. A few years back, I made a documentary short, The Whistle, which won the Sundance. The central character of that film will be the main character in the feature.