Official competition to include Cary Fukunaga's Beasts Of No Nation and European premieres for Jonás Cuarón's Desierto and Johnnie To's Office.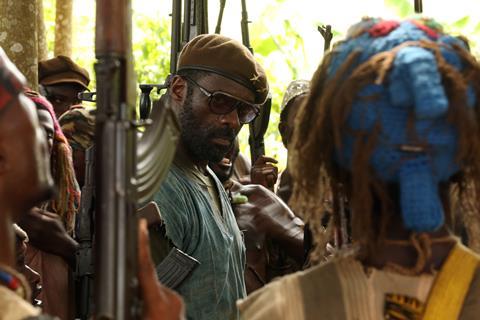 Scroll down for competition titles
The full line-up for the 59th BFI London Film Festival (Oct 7-18) has been unveiled this morning, including the titles set to compete in its four competitions.
The festival will screen a total of 238 fiction and documentary features, including 16 world premieres, eight international premieres, 40 European premieres and 11 archive films including five restoration world premieres. The line-up also includes 182 live action and animated shorts.
As previously announced, the festival will open with Sarah Gavron's period drama Suffragette, starring Carey Mulligan, and will close with Danny Boyle's biopic Steve Jobs, starring Michael Fassbender as the home computer pioneer and Apple co-founder. Both are European premieres.
Further headline galas at the festival will be Todd Haynes' Carol, Jay Roach's Trumbo, Scott Cooper's Black Mass, John Crowley's Brooklyn, Nicholas Hytner's The Lady In The Van, Ben Wheatley's High-Rise and a restored version of AV Bramble's 1928 classic Shooting Stars.
The festival programme will again be organised into categories clustered around the themes of Cult, Dare, Debate, Family, Journey, Laugh, Love, Sonic and Thrill.
The strands are each headlined with a gala:
Love: A Bigger Splash, Luca Guadagnino
Debate: The Program, Stephen Frears
Dare: The Lobster, Yorgos Lanthimos
Laugh: Brand: A Second Coming, Ondi Timoner
Thrill: Beeba Boys, Deepa Mehta
Cult: Bone Tomahawk, S. Craig Zahler
Journey: The Assassin, Hou Hsiao-Hsien
Sonic: The Idol, Hany Abu-Assad
Family: Goosebumps, Rob Letterman
This year, LFF has introduced three Special Presentations: the Experimenta Special Presentation, Guy Maddin and Evan Johnson's phantasmagoric opus The Forbidden Room, which screens at BFI IMAX; the Documentary Special Presentation, Davis Guggenheim's He Named Me Malala, exploring the events leading up to the Talibans' attack on young Pakistani school girl Malala Yousafzai; and the previously announced Fellowship Special Presentation of James Vanderbilt's Truth starring Cate Blanchett in honour of the actress receiving the BFI Fellowship at this year's LFF Awards Ceremony.
The Best Film Award will again be handed out in Official Competition; the Sutherland Award in the First Feature Competition and the Grierson Award in Documentary Competition.
This year there is also the newly introduced Short Film Award, presented to one of a shortlist of 12 films selected from across the programme. Each section is open to international and British films.
OFFICIAL COMPETITION
The Official Competition line-up, recognising inspiring, inventive and distinctive filmmaking, includes the following:
11 Minutes, Jerzy Skolimowski
Beasts Of No Nation, Cary Fukunaga
Cemetery Of Splendour, Apichatpong Weerasethakul
Chevalier, Athina Rachel Tsangari
The Daughter, Simon Stone
Desierto, Jonás Cuarón
Evolution, Lucile Hadžihalilović
Office, Johnnie To
Room, Lenny Abrahamson
Son Of Saul, László Nemes
Sunset Song, Terence Davies
Tangerine, Sean Baker
Very Big Shot, Mir-Jean Bou Chaaya
FIRST FEATURE COMPETITION
Titles in consideration for the Sutherland Award in the First Feature Competition recognising an original and imaginative directorial debut are:
3,000 Nights, Mai Masri
Bang Gang (A Modern Love Story), Eva Husson
The Here After, Magnus Von Horn
Krisha, Trey Edward Shults
Lamb, Yared Zeleke
Light Years, Esther May Campbell
Partisan, Ariel Kleiman
Paula, Eugenio Canevari
Tanna, Bentley Dean, Martin Butler
The Wait, Piero Messina
Wedding Doll, Nitzan Gilady
The Witch, Robert Eggers
DOCUMENTARY COMPETITION
The Grierson Award in the Documentary Competition category recognises cinematic documentaries with integrity, originality, and social or cultural significance. This year the Festival is screening:
(Be)Longing, João Pedro Plácido
Censored Voices, Mor Loushy
The Fear Of 13, David Sington
Frame By Frame, Alexandria Bombach, Mo Scarpelli
Francofonia Alexander Sokurov
In Jackson Heights, Frederick Wiseman
A Guy From Fenyang, Walter Salles, Jia Zhangke
Mr. Gaga, Tomer Heymann
The Pearl Button, Patricio Guzmán
Public House, Sarah Turner
Sherpa, Jennifer Peedom
Something Better To Come, Hanna Polak
SHORT FILM AWARD
In its inaugural year, the Short Film Award recognises short form works with a unique cinematic voice and a confident handling of chosen theme and content. This year the Festival is screening:
Command Action, João Paulo Miranda Maria
Dissonance, Till Nowak
Edmond, Nina Gantz
The Exquisite Corpus, Peter Tscherkassky
A Hole In My Heart, Mees Peijnenburg
Lili, An Van Dienderen
Mother(s), Maïmouna Doucouré
An Old Dog's Diary, Shai Heredia, Shumona Goel
Operator, Caroline Bartleet
Over, Jörn Threlfall
Red Moon Rising, Vivienne Dick
Tuesday, Ziya Demirel
Guests
Key filmmaking talent due to attend the Festival's gala and special presentation screenings include: Carey Mulligan, Helena Bonham-Carter, Meryl Streep, Sarah Gavron, Michael Fassbender, Kate Winslet, Danny Boyle, Cate Blanchett, Rooney Mara, Todd Haynes, Bryan Cranston, Helen Mirren, Jay Roach, Benedict Cumberbatch, Scott Cooper, Saoirse Ronan, John Crowley, Nick Hornby, Colm Toíbín, Maggie Smith, Alex Jennings, Nicholas Hytner, Alan Bennett, Tom Hiddleston, Ben Wheatley, Luca Guadagnino, Colin Farrell, Rachel Weisz, Yorgos Lanthimos, Ben Foster, Stephen Frears, Ondi Timoner, Randeep Hooda, Deepa Mehta, S. Craig Zahler, Hany Abu-Assad, Guy Maddin and Davis Guggenheim.
Additional filmmaking talent attending for films in competition include:
Official Competition: Jerzy Skolimowski, Cary Fukunaga, Apichatpong Weerasethakul, Athina Rachel Tsangari, Jonás Cuarón, Lucile Hadžihalilović, Lenny Abrahamson, Brie Larson, Terence Davies, László Nemes, Sean Baker;
First Feature Competition: Mai Masri, Eva Husson, Magnus von Horn, Trey Edward Shults, Yared Zaleke, Esther May Campbell, Nitzan Gilady, Ariel Kleiman, Eugenio Canevari, Robert Eggers, Piero Messina;
Documentary Competition: João Pedro Plácido, Mor Loushy, David Sington, Walter Salles , Tomer Haymenn, Patricio Guzmán, Sarah Turner and Hanna Polak.