It marks the first time the Oscar-winning US actress has been a juror at a film festival.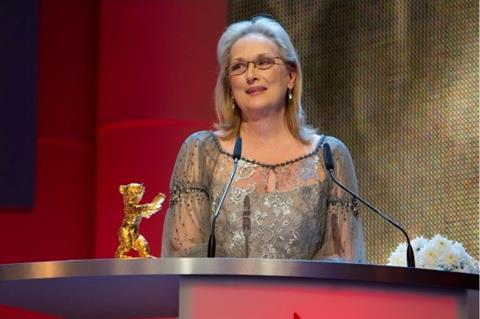 US actress and three-time Academy Award winner Meryl Streep has been named jury president of the 66th Berlin International Film Festival (Feb 11-21, 2016).
It will be the first time that the star of The Devil Wears Prada, Sophie's Choice and The Iron Lady has taken on the role of a juror at a film festival - but not the first time she has been a guest of the Berlinale.
In 2012, Streep received the Berlinale's Honorary Golden Bear in 2012 for lifetime achievement, having previously received the Berlinale Camera from the festival in 1999 and shared the Silver Bear with Julianne Moore and Nicole Kidman in 2003 for their performances in The Hours.
"It is a thrill to return to the festival under any circumstances, but it is with great relish and anticipation I look forward to jury duty," said Streep.
"The responsibility is somewhat daunting, as I have never been president of anything before, and I hope I can come up to the precedent set by the distinguished juries of preceding years. [I am] grateful for the honour."
Berlinale director Dieter Kosslick described the US actress as "one of the most creative and multifaceted film artists".
"I am very happy that she is returning to Berlin and with her artistic experience will take on the chairmanship of the international jury," he added.
Streep has featured in more than 40 films and has notched up 19 Oscar nominations, winning three times for The Iron Lady (2011), Sophie's Choice (1982) and Kramer vs Kramer (1980). She has also won eight Golden Globes.
Streep's international breakthrough came in the late 1970s with TV series Holocaust and Michael Cimino's The Deer Hunter (1978), for which she received her first Oscar nomination.
More recent performances include roles in musical comedy Mamma Mia (2008), John Wells' drama August: Osage Country (2014), musical Into the Woods (2014), Tommy Lee Jones' Western The Homesman (2014) and Sarah Gavron's historical drama Suffragette, for which she attended the European premiere last week when it opened the BFI London Film Festival