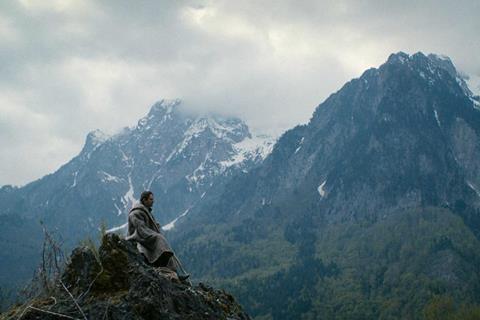 Robert Budina's mountain-set family drama A Shelter Among The Clouds was the key winner at Kosovo's PriFest in Pristina on Sunday (July 21), taking home three prizes including the best Balkan film award.
The Albania-Romania co-production also received the best actor and actress prizes for Kosovan actors Arben Bajraktari and Irena Cahani respectively.
It centres on the religious divisions between an extended family in an Albanian mountain community.
The film premiered at Tallinn Black Nights Film Festival in Estonia in November 2018, where Screen's review described it as "visually arresting…evocatively captures the collision between tradition and modernity."
Mahmut Fazil Coskun received the best director award for his soldier comedy The Announcement, which also took the FIPRESCI prize for best Balkan film The film premiered at Venice 2018, where it won the special jury prize in Venice Horizons.
PriFest celebrated its 11th edition from July 16-21, with events including a panel discussion on women in the arts, and a country focus on Greece.
PriFest winners 2019
Best Balkan film – A Shelter Among The Clouds, dir. Robert Budina (Alb, Rom)
Best director - Mahmut Fazil Coskun, The Announcement (Tur)
Best Actor - Arben Bajraktari, A Shelter Among The Clouds (Alb, Rom)
Best Actress - Irena Cahani, A Shelter Among The Clouds (Alb, Rom)
Best European Film – Consequences (Slovenia)
Special Jury Prize - Vladimir Mishukov in Elephants Can Play Football (Rus)
Best Documentary - Blue Breath (Por)
Special mention for documentary - Miel Emile (Neth)
Fipresci Award for best Balkan film - The Announcement (Tur)
Media Jury best European film - The Days To Come (Sp)
Audience award – An Unforgettable Spring In A Forgotten Village (Mac)
Annual achievement award for a Kosovan filmmaker - Kushtrim Hoxha, actor
Lifetime achievement award - Melihate Qena, actress / Selman Lokaj, actor
Video postproduction award – Gulizar, dir. Belkiz Bayrak (Tur)
Sound postproduction award - Aisha, dir. Hanis Bagashov (Mac)
Best pitch award - My Brother, dir. Yulian Mala, Harris Davas (Alb)
Best Green Film Project – Nature, dir. Beatrice Shabanaj, Verona Berisha