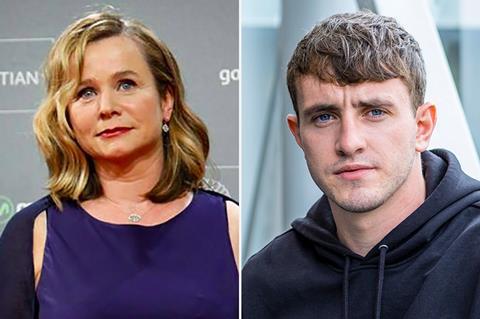 A24 has come on board psychological drama God's Creatures currently filming in Ireland with leads Emily Watson and Paul Mescal.
Saela Davis and Anna Rose Holmer have reunited after their award-winning drama The Fits to direct the Sixty-Six Pictures production.
A24 has taken worldwide rights and is co-financing alongside BBC Film, Screen Ireland, and WRAP (Ireland's Western Region Audiovisual Producers Fund).
God's Creatures is set in a rain-swept Irish fishing village where a woman's lies to protect her son have a devastating impact on the community, her family, and herself.
Shane Crowley wrote the screenplay based on a story he co-wrote with Fodhla Cronin O'Reilly, who is producing.
Watson's credits include Chernobyl and Breaking The Waves, while Mescal recently garnered Emmy and Critics' Choice Award nods for his role as Connell in Normal People.
Aisling Franciosi co-stars, following her award-winning performances in The Nightingale and TV series The Fall, and other cast members include Declan Conlon (Calvary), Marion O'Dwyer (Love, Rosie), and Toni O'Rourke (Wildfire).
The Sixty-Six Pictures production follows producer O'Reilly's award-winning and critically acclaimed successe Ammonite and Lady Macbeth
Holmer directed The Fits and co-wrote it with Davis, who also edited. The film premiered at 2015 Venice Film Festival and played Sundance the following year. It earned Spirit Awards and Gotham Awards nominations and won the Critics Award at Deauville Film Festival.
Sixty-Six developed God's Creatures with the support of Screen Ireland, BBC Film, and A24.