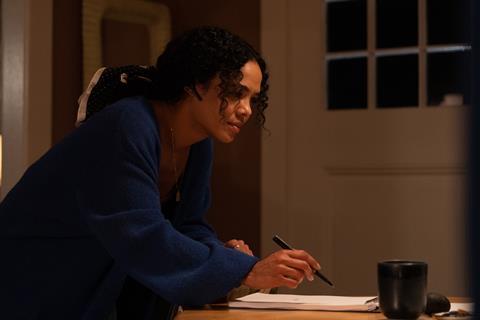 Abel Ferrara's Padre Pio, Steve Buscemi's The Listener and rising UK director Georgia Oakley's Blue Jean are among the world premieres in this year's Giornate degli Autori (GdA) , the independent sidebar of the Venice Film Festival (August 31 - September 10).
Lebanese director Wissam Charaf's Dirty, Difficult, Dangerous will open the programme in competition. The film entwines multiple love stories against the backdrop of Lebanon's near collapse.
UK director Fyzal Boulifa's The Damned Don't Cry is also playing in competition. The film is a France-Belgium-Moroccan co-production from the director of 2019's Lynn + Lucy.
Scroll down for full line-up
Shia LaBeouf stars in Ferrara's biographical drama which depicts the life of the Italian Capuchin monk who provoked admiration and controversy by displaying stigmata. Ferrara was last in Venice in 2020 with his out of competition documentary Sportin' Life.
Oakley's Blue Jean follows a closeted teacher during 1980's Thatcherism and was presented in Cannes Great8 selection earlier this year. It was produced via Creative England's ifeatures initiative and is backed by BBC Film and the BFI.
Buscemi's The Listener will screen out of competition and close the programme. Tessa Thompson stars as a night-shift volunteer for a mental health helpline.
Further out of competition titles include March On Rome from Northern Irish filmmaker Mark Cousins which charts the rise of fascism in Italy, and Sebastien Lifshitz's Casa Susanna.
Better Call Saul actor Bob Odenkirk will be at GdA to deliver a talk after a special event screening of Cecilia Miniucchi's Worlds Apart, in which he stars.
Of the 10 films in competition, four are directed by women (Cristina Grosan's Ordinary Failures, Oakley's Blue Jean, Cláudia Varejão's Wolf And Dog, and Huang Ji and Otsuka Ryuji's Stonewalling) while The Last Queen is co-directed by Adila Bendimerad with Damien Ounouri.

The jury will be overseen by French director Céline Sciamma who will help 27 young European film enthusiasts select the recipient of the GdA Director's award and a cash prize of €20,000.
Official Competition
Bentu (It)
Dir. Salvatore Mereu

Ordinary Failures (Czech-Hun-It-Slovakia)
Dir. Cristina Groșan
Blue Jean (UK)
Dir. Georgia Oakley
Dirty, Difficult, Dangerous (Fr-It-Leb) (Opening film)
Dir. Wissam Charaf
The Last Queen (Alg-Fr-Tai-Qat-Saudi)
Dirs Adila Bendimerad, Damien Ounouri
The Damned Don't Cry (Fr-Bel-Mor)
Dir. Fyzal Boulifa
Wolf And Dog (Port)
Dir. Cláudia Varejão
Padre Pio (UK-It-Ger)
Dir. Abel Ferrara
Stonewalling (Jap)
Dirs. Huang Ji, Otsuka Ryuji
The Maiden (Can-US)
Dir. Graham Foy
Out Of Competition - special events
Olimpia's Way (It)
Dir. Corrado Ceron
Alone (Iran)
Dir. Jafar Najafi
We're Here To Try (It)
Dirs. Greta De Lazzaris, Jacopo Quadri
Casa Susanna (Fr-US)
Dir. Sebastien Lifshitz
March On Rome (It)
Dir. Mark Cousins
The Listener (US) (closing film)
Dir. Steve Buscemi
Venetian Nights
Land Of Upright People
Dir. Christian Carmosino Mereu
Kristos, The Last Child
Dir. Giulia Amati
The Crown Shyness
Dir. Valentina Bertani
Las Leonas
Dirs. Isabel Achával, Chiara Bondì
Le Favolose
Dir. Roberta Torre
Pablo From Neanderthal
Dir. Antonello Matarazzo
Se Fate I Bravi
Dirs. Stefano Collizzolli, Daniele Gaglianone
The Bone Breakers
Dir. Vincenzo Pirrotta
An Invisible Enemy
Dirs. Riccardo Campagna, Federico Savonitto