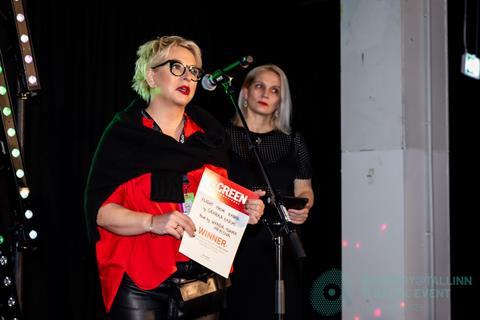 Sahraa Karimi's Taliban drama Flight From Kabul has won the Screen International best pitch award from Industry@Tallinn & Baltic Event, the industry platform of Tallinn Black Nights Film Festival (POFF).
The project is inspired by Karimi's own experience of the 2021 Taliban offensive that retook control of Afghanistan, and forced the filmmaker to flee her homeland. The Italy-Slovakia co-production tells the story of Zibaa, a successful Afghan filmmaker and anti-Taliban activist who has got engaged; only for her wedding plans to be destroyed when the Taliban seizes Kabul.
The film is being produced by Wanda Adamik Hrycova for Slovakia's Wandal Production, in co-production with Fandango.
Scroll down for the full list of industry winners
The jury noted "a harrowing film, a testimony of an important personal true story told through the female perspective and based on momentous current events that still haunt us today."
Liliana Torres' Spanish feature Mamifera received the best international project award from the Works in Progress section, with €7,000 (£6,135) cash prize. Produced by Carla Sopedra Salvado and Miriam Porte for Edna Cinema and Distinto Films, the film centres on a 40-year-old woman who accidentally becomes pregnant, causing her to rethink her life.
"It was an extremely competitive field of projects," said the jury, adding that "a particularly touching moment from the [Mamifera] footage continued to surface in our discussions."
Also in Works in Progress, Lithuania-Estonia co-production Southern Chronicles received the best Baltic project award, with €7,000 cash prize. Written by Egle Vertelyte, directed by Ignas Miskinis and produced by Lukas Trimonis for In Script, the jury commended the film for its "very authentic but very relatable story, which is especially impressive and challenging as a comedy."
Raul Esko and Romet Esko's Estonian feature Two Of Me won the €1,000 Best Just Film Project prize, for a youth-focused film.
Co-production
Alongside Flight From Kabul, winners in the Baltic Event Co-Production Market included Hannes Vartianinen's Finnish title The Elf, produced by Joonas Berghail for Oktober Oy.
Three producers received two Producers Network Prizes, which include a pass to the 2024 Producers Network awarded by Cannes' Marche du Film. Anna Gawlita and Marta Szymanowska received the award for La Manche, while Rea Rajcic did for Pogana.
In the Script Pool, Leon Yersin's Swiss title What remains took the €5,000 prize for most promising project; with Carlos E. Lesmes' Rise of the Water Fox receiving a special mention.
The awards were presented at a ceremony at Roheline Saal, a warehouse venue in the city's Telliskivi bar and club district. Hundreds of attendees then decamped to the nearby Sveta bar to celebrate the prizes at the From Berlin With Love party.
Earlier this week Estonian drama series Behind The Iron Curtain was among the winners at the TV Beats forum. POFF hosts its festival awards this evening (Saturday 18), before the 17-day festival concludes tomorrow.
Industry@Tallinn & Baltic Event 2023 awards
Script Pool
Most promising project: What remains (Swiss) wri-dir. Leon Yersin
Special mention: Rise of the Water Fox (Est) dir. Carlos E. Lesmes
Works in Progress
Best international project: Mamifera (Sp) wri-dir. Liliana Torres
Best Batlic project: Southern Chronicles (Lith-Est) dir. Ignas Miskinis
Best Just Film project: Two of Me (Est) dirs. Raul Esko, Romet Esko
Baltic Event Co-Production Market
Baltic project award: The Elf (Fin) dir. Hannes Vartiainen
Screen International best pitch award: Flight From Kabul (Slovakia-It) dir. Sahraa Karimi
Producers Network prize: Anna Gawlita, Marta Szymanowska – La Manche; Rea Rajcic - Pogane