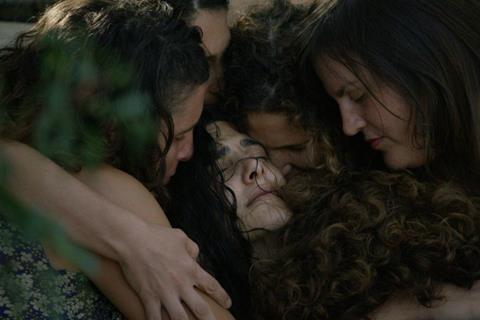 Oren Gerner's Africa and Yaron Shani's Reborn have been jointly awarded the top award at the 35th Haifa International Film Festival (Oct 12-21).
Scroll down for full list of winners
As joint winners of the best Israeli feature film award, the prize of 100,000 NIS ($28,000) will be divided between them.
The dramas each won three trophies at the festival's awards on Saturday (Oct 19).
Africa, the story of how a retiree copes with growing older, also picked up the Danny Lerner award for best Israeli feature debut and the Michael Shvily award for best actor in an Israeli feature film for Meri Gerner.
The director cast his parents Meir and Maya in the lead roles, and stars alongside them, blurring the lines between fact and fiction. Africa debuted at Toronto and is handled internationally by Heretic Outreach.
Reborn marks the final part of Shani's Love Trilogy and centres on three women whose bonds help them overcome dark secrets and self-destruction. The Michael Shvily award for best actress in an Israeli feature film was extended to the three women at the centre of the drama, Stav Almagor, Ori Shani and Leah Tonic – none of which had performed on screen before starring in Shani's trilogy.
The film, handled internationally by Alpha Violet, also won the Anat Pirchi award for cinematography in an Israeli feature film for the work of Shai Skiff and Nizan Lotem.
In the international competition, the Carmel award for best film went to While At War, Alejandro Amenábar's look at Franco's Spain through the experiences of celebrated writer Miguel de Unamuno. The award includes a prize of 80,000 NIS ($22,500).
A special mention went to Alejandro Landes' Colombian survival thriller Monos, which recently won best film at the BFI London Film Festival following its Sundance debut earlier this year, where it picked up the World Cinema Dramatic Special Jury award.
The Golden Anchor award for best international debut film went to Austrian director Andreas Horvath's Lillian, in which a Russian emigrant in New York decides to walk back to her home country. The part documentary, part fiction work received its world premiere in Directors' Fortnight at Cannes.
HAIFA 2019 AWARDS
Israeli Films
Best Israeli Feature Film Award
Africa – Director: Oren Gerner / Reborn – Director: Yaron Shani
Best Israeli Feature Debut
Africa
Script Award for an Israeli film
Happy Times - Script: Guy Ayal, Michael Mayer
Best Actor in an Israeli Feature Film
Meir Gerner - Africa
Best Actress in an Israeli Feature Film
Stav Almagor, Ori Shani, Leah Tonic - Reborn
Editing in an Israeli Feature Film
Einat Glaser Zarhin - The Art Of Waiting
Cinematography in an Israeli Feature Film
Shai Skiff, Nizan Lotem - Reborn
Special Mention
Golden Voices - Director: Evgeny Ruman
Best Israeli Documentary Film
Underground Ballet - Director: Lina Chaplin
International Films
Best Film - International Film Competition
While at War - Alejandro Amenábar
Special Mention
Monos - Alejandro Landes
Best International Debut Film
Lillian - Andreas Horvath
Special Mention
Homeward - Nariman Aliev
Between Israeli and Jewish Identity Competition
Best Film
The Mover - Davis Sīmanis
Special Mention
Chichinette - How I Accidentally Became a Spy - Nicola Alice Hens