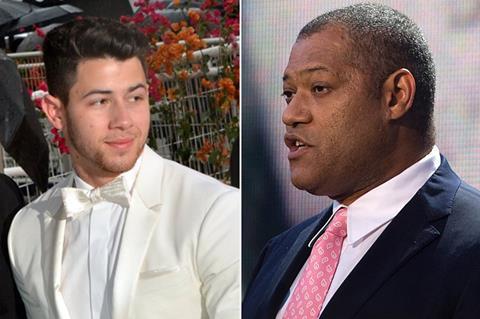 AGC Studios and director Pierre Morel have targeted a September production start in Toronto on The Blacksmith, the action thriller starring Nick Jonas and Laurence Fishburne that both said could become a franchise.
Discussing the project in Monday's (June 22) convivial Cannes virtual market presentation with Morel (Taken, Peppermint, District 13), AGC Studios head Stuart Ford said "soft prep" had already begun on the story of an intelligence community weapons experts who goes on the run in search of his mentor after his secret base is infiltrated and his colleagues killed.
The Blacksmith is expected to be delivered in the third quarter of 2021 and Ford, speaking from his Los Angeles home, said the tentpole would make for a strong summer or autumn release.
Discussing the appeal of the project from his home in Paris with a print of the Eiffel Tower behind him, Morel said: "I am a James Bond fan and my big question was what would it be like if Q had to be the mission himself?… He's thrown into this situation and has to deal with it with knowledge and not muscles."
Ford noted singer-turned-actor Jonas's charisma and sense of humour were a good fit for the role of Wes Loomis, and said it was time to introduce a younger lead with appeal to millennial audiences.
"This is an opportunity to reboot," he said, adding that streaming platform stars tended to be younger. "For theatrical distributors, we have got to get into that business."
Morel agreed. "There's a new generation that watches so much streamed content and don't stick to one guy any more," he said. "They want surprises… they want something fresh."
The filmmaker added that it had been his ambition to work with Fishburne, who will portray Loomis's mentor and retired blacksmith Mather, "since Apocalypse Now."
The producers expect to cast within the next month or so another key role in the form of Noelle, a resourceful CIA analyst with deadpan delivery who banters with Loomis.
Morel said the property, which will call for high-tech gadgetry and large-scale CGI effects, has strong franchise potential. "It's written, it's in the DNA of the movie. He's [Loomis] not going to work for who he's told to work for; he's going to work for who he chooses."
Ford added, "He has the opportunity to do battle with other blacksmiths or ally with other blacksmiths out there."
AGC Studios is financing, producing and handling worldwide sales on The Blacksmith.
Ford rounded out the 30-minute conversation by stressing the importance of staying positive during the pandemic, urged buyers to transact to keep the business vibrant, and wished all participants in the virtual market well.
Anticipated virtual market presentations set for Tuesday include: FilmNation's runaway slave project Emancipation with director Antoine Fuqua and star Will Smith; STX's Ferrari with Michael Mann; Endeavor Content's dystopian thriller Songbird from director Adam Mason; and Latido Films horror Virus 32.
XYZ Films and AMP International will show a sneak preview of Quoc Bao Tran's martial arts comedy The Paper Tigers at the online Marché Frontières on Thursday.