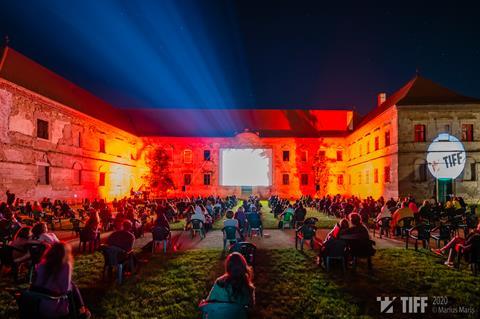 Australian comedy-drama Babyteeth was awarded the top prize at the 19th Transylvania International Film Festival, which went ahead as physical event with Covid-19 safety measures in place.
Scroll down for full list of winners
The film, which marks the debut feature of Australian theatre and TV director Shannon Murphy, won the Transilvania Trophy and €10,000. First seen in competition at Venice last year, the bittersweet comedy also picked up the audience award at the festival in the Romanian city of Cluj, which ran from July 31 to August 9.
TIFF marks the first major film festival to take place physically in Eastern Europe since the beginning of the pandemic. Screenings were held at outdoor venues with social distancing measures in place and a maximum capacity of 500 people while face coverings were made mandatory for all public events in Romania from August 8.
The festival recorded 45,000 viewers from 232 screenings from 157 films, down from last year's 95,000 viewers from 400 screenings. The average attendance remained steady at 61%, compared to 63% in 2019.
More than 50 events were sold out including Nicolas Bedos' La Belle Epoque, which opened the festival with three simultaneous screenings at different locations, and two screenings of French comedy Delete History, directed by Benoît Delépine and Gustave Kervern, which closed the 10-day event.
The awards ceremony, held outdoors for the first time in Cluj-Napoca's Unirii Square, was attended by Romanian filmmaker Radu Ciorniciuc, who picked up the prize for best feature in the Romanian Days section with documentary Acasă, My Home.
Also in attendance was Moldovan-born Romanian actor Dorian Boguță, who collected the best directorial debut award for his drama Legacy. Both Babyteeth awards were picked up by the film's Romanian distributor, Bad Unicorn.
Those who were absent but sent video messages included actress Evgeniya Gromova, who won best performance for her role in erotic Russian drama Fidelity; and Chinese filmmaker Zheng Lu Xinyuan, who won the directing award for her drama The Cloud In Her Room. The directing prize was shared with Tim Mielants, the director and co-writer of Belgian comedy-drama Patrick.
Bulgarian director Svetla Tsotsorkova also accepted her prize via video, after winning the special jury award with her drama Sister.
While the competition jury was present in Cluj, including Berlinale 2018 Golden Bear winner Adina Pintilie (Touch Me Not), the Romanian Days and FIPRESCI juries watched films online from their own countries.
Reflecting on this year's festival, TIFF artistic director Mihai Chirilov said: "It was a simple but at the same time complicated edition; stressful, but ultimately comforting.
"What seemed complicated at first was simplified throughout the festival; what seemed absurd, gained relative normalcy. Personally, I wish we wouldn't have to go through this again, but I'm the type who always looks at the bright side of things."
Other festivals in the region such as Motovun have cancelled their 2020 editions due to the pandemic while Sarajevo announced last week it would shift this year's edition online, amid a second spike in Covid-19 cases.
19th Transilvania IFF Awards
Transilvania Trophy (€10,000): Babyteeth, dir. Shannon Murphy
Directing Award (€3,500): Tim Mielants, Patrick and Zheng Lu Xinyuan, The Cloud In Her Room
Special Jury Award (€1,500): Sister, dir. Svetla Tsotsorkova
Performance Award (€1,000): Evgeniya Gromova, Fidelity
FIPRESCI Prize: Everything Will Not Be Fine, dirs. Adrian Pîrvu, Helena Maksyom
Audience Award: Babyteeth, dir. Shannon Murphy
Excellence Award: Maria Ploae
Romanian Days section
Audience Award (€1,500): So, What's Freedom?, dir. Andrei Zincă
Best Feature (€10,000 post-production services): Acasă, My Home, dir. Radu Ciorniciuc
Best Debut (€1,000): Legacy, dir. Dorian Boguță
Special Mention: Ivana the Terrible, dir. Ivana Mladenović
Best Short (€1,500 / €5,000 services): Kaïmós, dir. Sarra Tsorakidis
Special Mentions: Letter Of Forgiveness, dir. Alina Șerban / Death And The Knight, dir. Radu Gaciu
Transilvania Pitch Stop Awards
Eurimages Co-production Development Award (€20,000)
Kretsul, dir. Alexandra Likhacheva, pro. Anna Shalashina - WISH Media (Russia)
Chainsaw Europe post-production services (€25,000)
Panopticon, dir. George Sikharulidze, pro. Vladimer Katcharava - 20 Steps Productions (Georgia)
Transilvania Pitch Stop Award (€3,500)
Blue Banks, dir. Andreea Cristina Borțun, pro. Gabriela Suciu-Pădurețu (Atelier de Film)
Transilvania Pitch Stop CoCo Award
Sep & Ana, dir. Paul Cioran, pro. Claudiu Mitcu - We Are Basca (Romania)
Other Awards
Local Competition Award (€1,500): Ceea Ce Nu Am Observat, dir. Farkas Boglárka Angéla
Special Mention (€300): Între Lumi, dir. Maria Cinar-Jiga
Young Francophone Jury Prize: Adoration, dir. Fabrice du Welz (Belgium)
Alex. Leo Șerban Scholarship (€2,500): Alexandra Tănăsescu for Cultura la Dubă
Special Mention (€500): film critic Victor Morozov
Special Mention (€1,000): actor Cristi Popa, Monsters