British live action and animated shorts to screen in cinemas from 28 February.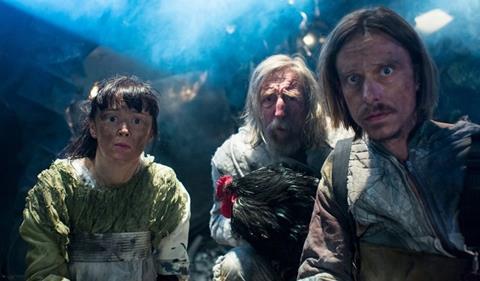 BAFTA has revealed that a feature-length package of films nominated in the British Short Film and British Short Animation categories at this year's EE British Academy Film Awards will screen in UK cinemas from Feb 28 and will tour internationally.
Selected screenings will be followed by a Q&A with nominated filmmakers who will discuss their working process and creative inspirations. The activity is part of BAFTA's ongoing work to spotlight British-based filmmaking talent.
Following the first-ever theatrical release of nominated shorts in 2013, BAFTA is partnering for a second year with specialist distributor the Independent Cinema Office (ICO), which will handle all UK theatrical bookings, and the British Council, which will tour the nominated films internationally through their network of offices in 110 countries.
The UK-wide rollout of BAFTA Shorts 2014 begins with a special screening at the Institute of Contemporary Arts (ICA) in London on Feb 28, attended by the nominated filmmakers. Other confirmed venues include Riverside Studios in London, Watershed in Bristol and Broadway Cinema in Nottingham.
Interviews with the nominated filmmakers and other additional content will be available in March on BAFTA Guru, BAFTA's online learning channel.
Further information about the nominated short films and animations, including venues and show times, can be found at the BAFTA website.
For information on booking the films for exhibition, visit the ICO website.
The short films nominated at the EE British Academy Film Awards are:
BRITISH SHORT ANIMATION
Everything I Can See From Here - Bjorn-Erik Aschim, Friederike Nicolaus, Sam Taylor
Sleeping With The Fishes- James Walker, Sarah Woolner, Yousif Al-Khalifa
I Am Thomas Moody- Ainslie Henderson
Cast: Mackenzie Crook, Jude Crook
BRITISH SHORT FILM
Island Queen - Ben Mallaby, Nat Luurtsema
Cast: Nat Luurtsema, Sam Pamphilon, Sam Perry
Keeping Up With The Joneses - Megan Rubens, Michael Pearce, Selina Lim
Cast includes: Maxine Peake, Geoff Bell, Adeel Akhtar, Anamaria Marinca
Orbit Ever After- Chee-Lan Chan, Jamie Stone, Len Rowles
Cast: Thomas Brodie-Sangster, Mackenzie Crook, Bronagh Gallagher, Bob Goody
Room 8 - James W. Griffiths, Sophie Venner
Cast: Tom Cullen, Michael Gould, Franc Zalewski
Sea View - Anna Duffield, Jane Linfoot
Cast: Eloise Smyth, Ciaran Griffiths, Stephanie Fayerman