Jeff Pope and Stephen Beresford among speakers.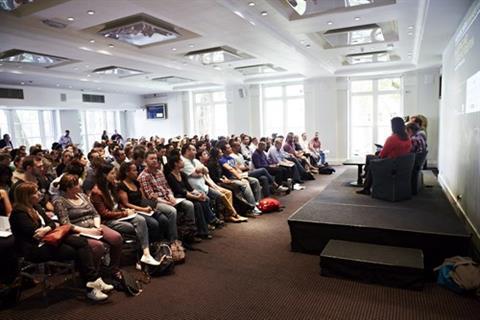 The Sargent-Disc BAFTA Filmmakers' Forum - an annual networking and skills development event for first-time feature filmmakers - is to take place on July 11 at BAFTA's London headquarters.
The day-long event will feature masterclasses, panel discussions and one-to-one speed sessions offering first-time feature filmmakers advice to help them navigate and progress in the industry.
Highlights of the day include:
a panel on writing and developing real life stories with BAFTA-winning screenwriters Jeff Pope (Philomena) and Stephen Beresford (Pride), BAFTA-winning documentary-maker Morgan Matthews (X+Y) and BAFTA-nominated director Elaine Constantine (Northern Soul);


a session on the rewriting process with the team behind Testament of Youth, Rosie Allison (head of development, Heyday Films) and writer Juliet Tawhidi;


a session on casting presented by RADA with casting director Des Hamilton (Nymphomaniac, This Is England);


and a series of panels and roundtables looking at the craft and business of film.
BAFTA has run the Filmmakers' Forum (formerly Filmmakers Market) since 2009 and this year's event is supported by 15 of the UK's major film organisations.
Other panels and sessions will include:
- Creative keynote speech;
- A series of panels focussing on the craft of film, including Meet the Sound Team behind BAFTA-nominated '71;
- Sustainable filmmaking tips from Albert+ and Sargent Disc;
- Script feedback from BBC Writers' Room;
- Creative Europe Desk UK on securing European co-production funding;
- Advice on low budget VFX;
- One-to-one speed sessions to get your CV in shape, practise pitching, rework your script, find the right festivals for your film and get advice on funding applications;
- 'Would Like to Meet' networking breakfast sponsored by Mad Dog Casting;
- The Filmmakers Forum Wrap Party, sponsored by Shutterstock and Grolsch.
All main programme tickets are £6 each. Speed sessions and the Wrap Party are free to anyone who books a ticket for a main programme event.
For the full programme, and to book, visit bit.ly/FilmmakersForum.