UK mentoring programme Guiding Lights is returning this year with a new iteration, Feature Focus, which will support the development of eight first-time feature filmmakers.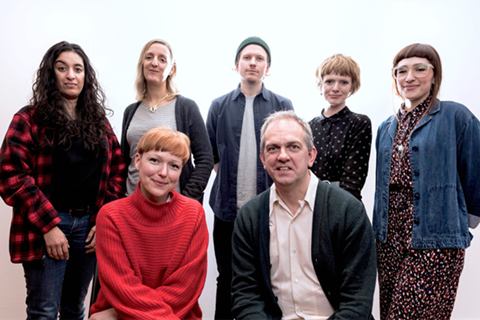 Beast director Michael Pearce, Notes On Blindness directors James Spinney and Peter Middleton, Moon producer Nicky Bentham, Adult Life Skills director Rachel Tunnard, and Nina Forever team Ben Blaine and Chris Blaine have all signed up to be mentors for the initiative. They are all alumni of the Guiding Lights scheme.
This year's crop of mentees, all of whom are aiming to make their first feature, are directors Chris Shepherd, Rose Glass, Marie Lidén, Rubika Shah, Corinna Faith and Nick Rowland as well as producers Rebecca Day and Isobel Pietsch. Scroll down to read bios of each mentee.
Guiding Lights is run by Brighton-based agency Lighthouse and is funded by Creative Skillset's Film Skills Fund with the support of the BFI. Further partners are Film4, Creative England, BFI, Creative Scotland and Horizons. This year's programme is also backed by Studiocanal and Sharp House.
Lighthouse's executive director Emily Kyriakides commented: "Alongside the 150-plus mentorships and the many individual achievements of the mentees, one of the greatest outcomes of Guiding Lights has been the alumni community, who have directly influenced the evolution of the scheme. In recent years, mentees have played an increasingly important role in the assessment and selection process, helping to ensure that the needs of emerging filmmakers are always at the heart of what we do. So having some of them return now as peer mentors is an exciting new milestone for us."
Mentor and Guiding Lights alumna, producer Nicky Bentham, added: "Participating in Guiding Lights was a real turning point for me both personally and professionally. Not only did I have the expert guidance and support of a world-class mentor in Barbara Broccoli, but I also benefited enormously from the friendships and collaborations that developed amongst the mentee group. These relationships continue today, and I'm thrilled to be participating in the latest scheme as a peer mentor."
2018 mentees (bios provided by Lighthouse)
Directors:
Rose Glass has many internationally acclaimed shorts and music videos under her belt; which went on to screen at SXSW, Palm Springs and LSFF among others. She is currently developing her debut feature with Film4 and producer Oliver Kassman.
Marie Lidén is based in Scotland and has worked in sound design, animation, music videos and documentaries for Channel 4's First Cut and Al-Jazeera among others. She is currently developing two feature documentaries, Electric Malady with Aconite Productions, and Girls of Cults with The Forest of Black.
Nick Rowland, whose credits include Ripper Street (BBC Two/Amazon Prime) and Hard Sun (BBC One/Hulu) among other acclaimed student shorts, is currently in pre-production for his debut feature, produced by DMC film and Element Pictures.
Chris Shepherd, who works with both animation and live action, has directed many internationally award-winning shorts (Dad's Dead, Johnno's Dead) and TV series, and worked with talent such as Chris Morris. He is currently directing a comedy animation short for ARTE about Brexit, and preparing for his first feature, Snodgrass, with Creative England.
Rubika Shah is a Screen International Star of Tomorrow whose films have screened at Sundance, Berlin, Tribeca, Hot Docs, BFI London and Sheffield Doc/Fest, amongst others. She is currently working on feature documentary White Riot, about punk, politics and fanzine culture with her producer/co-writer Ed Gibbs, supported by Creative England.
Corinna Faith works across film and TV and is currently directing her forthcoming feature, The Power, a ghost story set in the power cuts of 1973, with a second feature project in development with Scott Free.
Producers:
Isobel Pietsch's diverse experience spans film, theatre, dance and live cinema; she is currently producing her first feature, Last Laugh, a coming-of-middle-age comedy-drama about a once-successful stand-up comedian who returns to the comedy circuit in search of redemption.
Rebecca Day began her career as a producer with the Scottish Documentary Institute (SDI). Now as a freelancer, she is producing two feature documentaries, Becoming Animal, a Scottish/Swiss co-production directed by Emma Davie and Peter Mettler (released in 2018), and Silent Men with Duncan Cowles, recipient of the BFI Raw Talent Award.