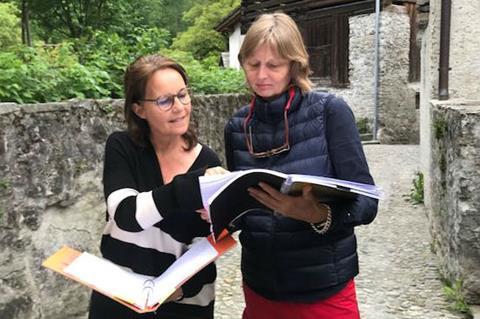 Beta Cinema has taken international sales rights to Oscar-winning German director Caroline Link's much-anticipated adaptation of Judith Kerr's autobiographical novel When Hitler Stole Pink Rabbit that is now shooting in Germany, Switzerland and the Czech Republic.
The German-language film is based on Kerr's family's real-life flight from Nazi Germany in the 1930s. It stars newcomers Riva Krymalowski and Marinus Hohmann with Swiss actress Carla Juri who made an impact with her performance in Wetlands when it was premiered at Locarno 2013.
Kerr went on to write classic children stories including The Tiger Who Came To Tea and Mog The Forgetful Cat.
Link won the Academy Award for best foreign-language film for Nowhere In Africa in 2003. It was an adaptation of Stefanie Zweig's autobiographical novel Nowhere In Africa about a German-Jewish family emigrating to Kenya in 1938 to avoid persecution in Nazi Germany.
When Hitler Stole Pink Rabbit is a Germany-Switzerland co-production between Jochen Laube and Fabian Maubach's hot German production outfit Sommerhaus Filmproduktion, Warner Bros. Film Productions Germany, Next Film Filmproduktion and Switzerland's La Siala Entertainment and Hugofilm Production. It is now shooting at locations in Baden-Württeberg, Bavaria, Berlin, Switzerand and Prague until the end of September, with Warner Bros set to release the film in Germany on December 26, 2019.
Beta goes to 'Berlin Alexanderplatz'
Beta has picked up a further Sommerhaus project, Burhan Qurbani's Berlin Alexanderplatz, about a refugee from Guinea-Bissau living in modern day Germany. Sommerhaus is producing Berlin Alexanderplatz with the Netherlands' Lemming Film. The film sees Qurbani and co-screenwriter Martin Behnke draw on elements and characters from Alfred Döblin's classic 1929 novel about a man who finds making a legal living as a stateless person is practically impossible. Principal photography wrapped on July 23. eOne has German rights.
Sommerhaus' What Doesn't Kill Us, a family drama marking Sandra Nettelbeck's return to German-language filmmaking that made its world premiere on Locarno's Piazza Grande last week, is also being handled by Beta. It was Nettelbeck's third film to be shown on the Piazza Grande but a downpour during the screening meant only around 2,000 people braved the rain to watch the film to the very end at the open-air venue, while another 3,000 members of the audience had moved to an alternative indoors venue and reportedly applauded the director and her cast when they came on stage after the closing credits.