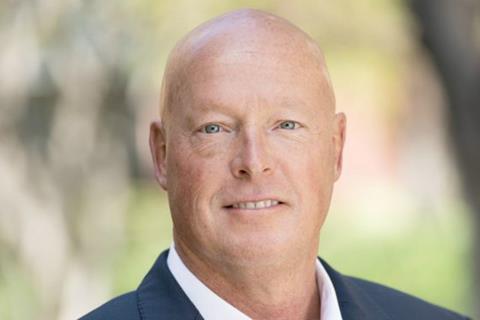 Disney has picked Bob Chapek as its new CEO, with the 27-year company veteran, most recently in charge of theme parks, taking over immediately from Robert Iger.
Iger, who the company said just over a year ago would step down as CEO when his latest contract expired at the end of 2021, will become executive chairman of the The Walt Disney Company, directing the entertainment giant's "creative endeavours," according to a statement.
In a conference call with financial analysts, Iger said that with Disney's acquisition of Fox and launch into streaming complete he felt "that I should be spending as much time as possible on the creative side of our businesses. With the asset base in place and the strategy in place, that becomes the biggest priority."
Iger, who has been CEO for 15 years, added that "getting everything right creatively" is his number one goal before leaving Disney in December next year "and I could not do that if I were running the company on a day-to-day basis."
Chapek, who will now directly oversee all of Disney's business segments and corporate functions and report to Iger, said his major challenge will be steering the company through continuing disruption in the marketplace. "The challenge going forward," he said, "is how do we continue to have a leg up on our competition and understand when the market's changing and stay ahead of that so that we're proactively transforming as opposed to reacting."
Most recently holding the title of chairman of Disney Parks, Experiences and Products, Chapek previously headed Disney's parks and resorts and consumer products units. He has also done stints as president of Walt Disney Studios distribution and Walt Disney Studios Home Entertainment. He joined the company in 1993 after working in advertising.
In a statement, Iger said: "With the successful launch of Disney's direct-to-consumer businesses and the integration of Twenty-First Century Fox well underway, I believe this is the optimal time to transition to a new CEO. I have the utmost confidence in Bob and look forward to working closely with him over the next 22 months as he assumes this new role and delves deeper into Disney's multifaceted global businesses and operations, while I continue to focus on the company's creative endeavors."
Chapek added: "I am incredibly honoured and humbled to assume the role of CEO of what I truly believe is the greatest company in the world, and to lead our exceptionally talented and dedicated cast members and employees. Bob Iger has built Disney into the most admired and successful media and entertainment company, and I have been lucky to enjoy a front-row seat as a member of his leadership team. I share his commitment to creative excellence, technological innovation and international expansion, and I will continue to embrace these same strategic pillars going forward. Everything we have achieved thus far serves as a solid foundation for further creative storytelling, bold innovation and thoughtful risk-taking."
Susan Arnold, independent lead director of the Disney board, said Chapek "has shown outstanding leadership and a proven ability to deliver strong results across a wide array of businesses, and his tremendous understanding of the breadth and depth of the company and appreciation for the special connection between Disney and its consumers makes him the perfect choice as the next CEO."