Funding for three distribution projects, animation company Bogan and several creators of the very-popular-online Bondi Hipsters brand are among the recipients of US$2.73m ($3.5m) from Screen Australia.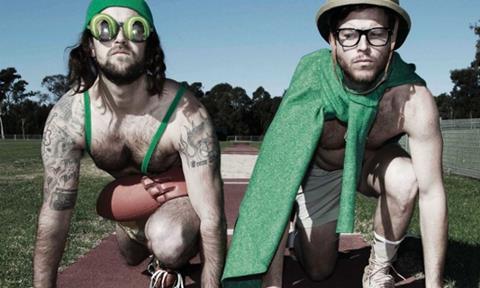 Sydney-based comedy brothers Christiaan and Connor Van Vuuren and their collaborators have produced 150 pieces of irreverent content, built a subscriber base of 50,000 on their YouTube channel and added a raft of characters and stories to their Bondi Hipsters brand for the ABC TV series Soul Mates – all in four years.
"Now we won't have to wait for the weekend when people are free (to film)," they joked. Instead they'll employ more writers, partner with others having success online, and develop and produce content faster across all platforms, working alongside development manager Chloe Rickard.
Kiwi Assassins: The Musical is one of the feature concepts covered by the deal. Kiwi Assassins are secret agents in Australia – one storyline has them kidnapping a young Russell Crowe and returning him to New Zealand.
"The attraction (of features) is scale and being able to take characters out of their small bubbles," said Christiaan Van Vuuren, who stars alongside Nick Boshier throughout Soul Mates.
"And take the characters through a complete story arc," added his brother.
Rickard said they intend to better exploit their talent for music in the film environment. Recent music video Cover Fire featured the Kiwi Assassins and Fuck The Banks has gone particularly well.
"The Van Vuurens generate controversial content and great content often is controversial," Screen Australia chief operation officer Fiona Cameron told ScreenDaily. "Government agencies don't court controversy but Screen Australia needs to court great content to develop Australian creative talent. Prolific content development based on immediate audience reaction is a little foreign to traditional screen development too, however, times are changing!"
Screen Australia is one of the new presenting partners at MIP Digital Fronts in April and the Van Vuurens' work will be included.
Melbourne-based Bogan Entertainment Solutions (BES) has made two animated telemovies for the Cartoon Network and one of them, Exchange Student Zero, sparked a series. Company head Bruce Kane has convinced Screen Australia to fund development of more 2D comedy, including at least one theatrical feature that he hopes will also spark series, and mentor writers and directors in the process.
"2D animation works with audiences if the comedy is funny and it has great design," he said, referring to the challenge of competing with 3D animated blockbusters from Hollywood. "You're not seeing the film to be dazzled by the effects. We've got three feature concepts, all for six to 12-year-olds, where we feel there's a gap in the market."
The funding comes from Screen Australia's Enterprise Industry program, which is for projects with broad industry benefit. Cameron also emphasized the focus on finding audiences, hence the inclusion of distribution projects.
The My Cinema movie marketing platform and website is run by the Independent Cinemas Association of Australia, which represents 670 of Australia's nearly 2,000 cinema screens. The first home-grown film to benefit from My Cinema was Paper Planes – as of March 6 it had grossed nearly $7m ($9m) – and it has funding for a two-year trial and feasibility study particularly for local fare.
Screen Australia is also backing an expansion of prolific filmmaker Robert Connolly's Cinema Plus, which uses events to bring Australian films more attention, most notably The Turning, and a direct-to-digital pilot distribution scheme by Jamie Hilton and Michael Petroni's See Picture, although some of their funding will fast track their development slate.
Ten companies in all received Enterprise money, with others focussed on developing scriptwriters and/or TV drama.