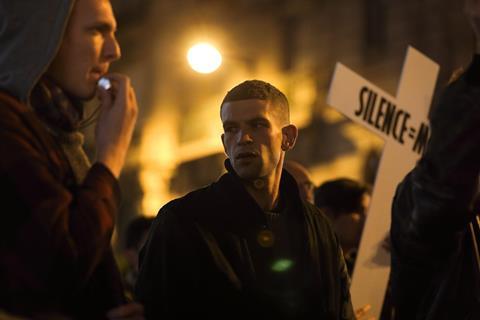 Robin Campillo's Aids activism drama BPM (Beats Per Minute) leads nominations in France's 2018 César awards which were announced in Paris on Wednesday morning (Jan 31).
Scroll down for the key nominations
The feature drama took 13 nominations including best film, best director and best screenplay and best male newcomer for its co-stars Nahuel Pérez Biscayart and Arnaud Valois.
France's Academy of Cinema Arts and Sciences unveiled the nominations at its traditional news conference at the Le Fouquet's restaurant on the Champs-Elysées.
The popularity of Campillo's film among the academy's members came as little surprise. Although ignored by Oscar and Golden Globe, the Cannes Grand Prix winner has been a critical and box office success in France where the film has drawn more than 800,000 spectators for Memento Distribution.
It also leads the nominations in the upcoming Lumière awards, France's equivalent of the Golden Globes.
Other leading César contenders included Albert Dupontel's lavish post World War One drama See You You There, with 12 nominations, Mathieu Almaric's tribute picture Barbara, which made it into nine categories, and feel good wedding reception comedy-drama C'est La Vie! by Eric Toledano and Olivier Nakache, and Hubert Charuel'sBloody Milk, with eight nominations each.
Charuel's rural drama about a young farmer battling to save his herd of cows after it is struck by a contagious disease is among a number of first features making it into the Cesar nomination lists this year.
Other first films picking up multiple nominations beyond the best first film category included Julie Ducournau's Raw and Mehdi Idir and performer Grand Corp Malade's semi-autobiographical Patients about a group of youngsters rebuilding their lives after life-changing accidents.
Absences
Notable absences from this year's nominations included Claire Denis.
The director, who has only ever been nominated once in the awards, was widely tipped to make it into the final round of the Césars with her Cannes Directors' Fortnight winner Let The Sunshine In.
Juliette Binoche did, however, get nominated in the best actress category for her performance in the film.
There was also not a single nomination for Luc Besson's sci-fi Valerian And The City Of A Thousand Planets, one of the most successful French films at the local box office this year.
The picture also missed out on the academy's new Le César du Public award, aimed at the French film with the biggest box office at home, which went to Dany Boon's Raid Special Unit, which drew roughly 4.5m spectators, some 500,000 more than Valerian.
This year, 642 films were eligible for nomination including 234 titles in the categories aimed at French cinema, 372 films in the best foreign film category and 36 shorts.
Films in the running in the foreign film category include Dunkirk, The Royal Exchange, Loveless andThe Square,
A total of 2,890 academy members, accounting for roughly 60% of its 4,680 membership, voted in the nomination round.
The 43rd Cesar ceremony will take place in the Salle Pleyel in Paris on March 2 with actor Manu Payet acting as master of ceremonies and actress and performer Vanessa Paradis as president of the event.
As previously announced Spanish actress Penélope Cruz will receive an honorary Cesar at the ceremony, following in the footsteps of George Clooney, Kate Winslett and Michael Douglas.
Academy president Alain Terzian noted that as well as feting contemporary French cinema the ceremony would also recall the stars who had passed away in 2017 including Jeanne Moreau, to whom the event will be dedicated, as well as Mireille Darc, Danielle Darrieux, Claude Rich, Jean Rochefort and Johnny Hallyday.
2018 nominations
Best film
BPM, dir: Robin Campillo
See You Up There, dir: Albert Dupontel
C'est La Vie!, Eric Toledano and Olivier Nakache
Barbara, dir: Mathieu Amalric
Le Brio, dir: Yvan Attal.
Bloody Milk, dir: Hubert Charuel
Patients, dir: Grands Corps Malade and Mehdi Idir
Best director
Robin Campillo, BPM
Albert Dupontel, See You Up There
Mathieu Amalric, Barbara
Éric Toledano and Olivier Nakache, C'est La Vie!
Michel Hazanavicius, Redoutable
Julia Ducournau, Raw
Hubert Charuel, Bloody Milk
Best actress
Juliette Binoche, Let The Sunshine In
Jeanne Balibar, Barbara
Emmanuelle Devos, Numéro Une
Marina Foïs, The Workshop
Charlotte Gainsbourg, Promise At Dawn
Karine Viard, Jealousy
Doria Tillier, Mr & Mrs Adelman
Best actor
Swan Arlaud, Bloody Milk
Daniel Auteuil, Le Brio
Jean-Pierre Bacri, C'est La Vie!
Guillaume Canet, Rock'n Roll
Albert Dupontel, See You Up There
Louis Garrel, Redoutable
Reda Kateb, Django
Best first film
Raw, dir: Julie Ducournau
Montparnasse Bienvenue, dir: Leonor Serraille
Mr & Mrs Adelman, dir: Nicolas Bedos
Patients, Grand Corps Malades, Mehdi Idir
Bloody Milk, Hubert Charuel
Best Foreign Film
The Nile Hilton Incident, dir: Tarik Saleh
Dunkirk, dir: Christopher Nolan
The Royal Exchange, dir: Marc Dugain
Loveless, dir: Andrey Zvyagintsev
La La Land, dir: Damien Chazelle
A Wedding, dir: Stephan Streker
The Square, dir: Ruben Ostlund
For full list click on: http://www.academie-cinema.org/