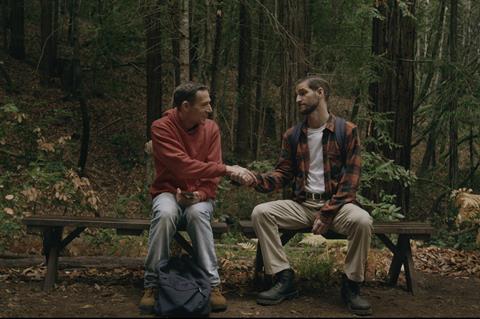 Breaking Glass Pictures has acquired North American rights to LGBTQ psychological thriller Devil's Path and will stage a limited theatrical release in March followed by DVD/VOD.
The thriller is the first feature directed and written by Matthew Montgomery, and is co-written by Stephen Twardokus, and produced by Steve Callahan and Jon Gale.
Devil's Path follows two strangers who meet in a wilderness park known to be a spot where gay men cruise for sex. An innocent and random encounter turns into a nightmare as the two become the prey in a vicious game of cat and mouse.
Twardokus stars alongside JD Scalzo, Jon Gale, Michael Hampton, Steve Callahan, Spencer Kelly, Michael van Why, and Brandy Elliott.
The film's world premiere was held at FilmOut San Diego where it won Best First Narrative Feature and Best Supporting Actor. Other festival screenings include NewFest, Atlanta Out On Film, Cinema Diverse Palm Springs, Chicago Reeling, and qFLIX: Philadelphia and Worcester.
Richard Ross, co-president of Breaking Glass Pictures, had this to say of the acquisition: "Montgomery has crafted a clever, taut, thriller that has an incredible amount of twists, yet never loses its terrifying grip on its audience. Devil's Path is a perfect hybrid for both the LGBTQ and genre audience, and an excellent addition to our catalog."
"We are thrilled to be working with Breaking Glass Pictures and having Devil's Path added to their impressive list of titles," said Montgomery. "They are known for their strong relationships with independent filmmakers and providing all genres of content. I'm excited that we get to be part of that family."
Breaking Glass Pictures CEO Rich Wolff brokered the deal with Montgomery representing Proteus Pictures.