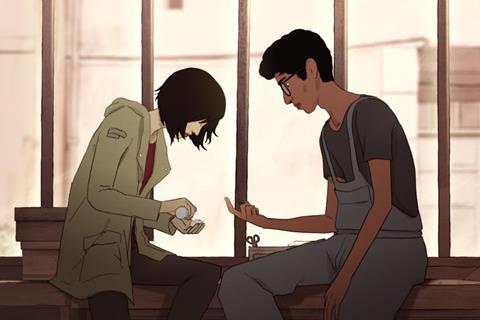 Cannes Critics' Week has unveiled the line-up for its 58th edition, running May 15-23.
Scroll down for full line-up
French-Colombian director Franco Lolli will open the parallel section, devoted to first and second films as well as shorts, with his contemporary drama Litigante.
The Bogotá-shot, character-driven tale revolves around a female lawyer facing a series of personal and professional challenges, including her mother's cancer diagnosis. It is Lolli's second feature after Gente De Bien, which premiered in Cannes Critics' Week in 2014.
"It's rare that we select a second film by someone who has already screened in Critics' Week but we were bowled over by this film," said artistic director Charles Tesson.
"There is an authenticity in the performances and situations lived by the female protagonist," he continued. "It's shot in Bogotá but the story could take place in any number of cities around the world today."
Emerging Chinese filmmaker Gu Xiaogang's debut feature, the contemporary family saga Dwelling In The Fuchun Mountains (Chun Jiang Shui Nuan), has been selected as the closing film.
"Gu Xiaogang finished film school three years ago. He's 30 years old. We didn't know much about him until an old contact sent us the film and now we do," said Tesson.
The film takes its title from one of China's most famous landscape paintings by 14th-century old master artist Huang Gongwang.
"It's the first film in a triptych revolving around three generations of a family. It's striking for the way in which it blends contemporary China with resonances of bygone China, as captured in its art and poetry," said Tesson.
A total of 11 features, selected from 1,050 submissions, will premiere in the features line-up, seven of them in competition and four out of competition.
After last year's all-European selection, this year's competition line-up is more of an international mix, with features also hailing from North Africa, South America and Asia.
Tesson highlighted the fact that it was a strong year for North Africa with Algeria and Morocco represented respectively by Amin Sidi-Boumédiène's psychological thriller Abou Leila and Alaa Eddine Aljem's comedy-drama The Unknown Saint.
"These two films break with the aesthetic traditions of the region, which tend to be more classical and realistic. Abou Leila is an ambitious film that has the feel of an American Western and buddy movie rolled into one, unfolding against the backdrop of the desert – it's not the sort of film you expect to see out of Algeria," said Tesson.
He also noted that the French feature in competition this year is an animation – Jérémy Clapin's I Lost My Body (J'ai Perdu Mon Corps), about an amputated hand which goes in search of its body.
Special Screenings
Two French productions will premiere as out of competition Special Screenings: Aude-Léa Rapin's Sarajevo-set tale Heroes Don't Die and actress Hafsia Herzi's love story Tu Mérites Un Amour.
Heroes Don't Die is Rapin's debut feature after a number of award-winning shorts including Ton Coeur Au Hasard, which won the grand prix at the Clermont-Ferrand International Film Festival in 2015 and also screened at Rotterdam.
Adèle Haenel stars as a budding filmmaker whose friend, played by Jonathan Couzinié, believes he is the reincarnation of a man who died in the Yugoslav War. They set off for Sarajevo with plans to make a documentary about their search for his grave.
"It's highly original for a French production, both in its non-French setting and the storyline," said Tesson. "It's an unclassifiable and surprising film."
Tu Mérites Un Amour is the directorial debut of actress Herzi, who is best known for her collaborations with Abdellatif Kechiche in Couscous (Le Grain Et Le Mulet) and his more recent Mektoub features.
Tesson revealed that Herzi had made the film under the radar on a tiny budget.
"Nobody knew this film existed," said Tesson. "She texted me a few months ago to say she had shot the feature with friends and long-time collaborators. We were all very touched by it – it is well-directed."
Shorts Selection
A total of 15 shorts will also play in Cannes Critics, selected from 1,605 submissions. Ten will play in competition while the other five will play across two Special Screening programmes.
"The films in the short competition are reserved for directors who have not made features," explained Tesson. "The Special Screening programmes are for the filmmakers who've had a short film in Critics' Week in the past, such as Moin Hussain, or people who have made a feature and then returned to shorts."
Hussain - a Screen Star of Tomorrow in 2018 - screened his second short Real Gods Require Blood in Critics' Week at Cannes 2017 and returns with his third short Naptha, a sci-fi tale set against the backdrop of petrol station.
It plays in the first shorts Special Screening programme reserved for films with a fantasy element alongside Pia Borg's documentary Demonic and Brandon Cronenberg's Please Speak Continuously and Describe Your Experiences as They Come to You.
The second programme features two shorts revolving around subjects living outside the mainstream but with strongly pertinent views of reality.
Filmmakers with shorts in competition are also eligible to participate in Critics' Week Next Step programme, aimed at supporting directors as they work towards their first feature.
Jury and Prizes
Colombian filmmaker Ciro Guerra is presiding over the jury this year. Prizes include Nespresso Grand Prize and The Louis Roederer Foundation Rising Star Award for feature films and the Leitz Cine Discovery Prize for short films.
CANNES CRITICS WEEK LINE-UP 2019
OPENING FILM
CLOSING FILM
Dwelling In The Fuchun Mountains (Chun Jiang Shui Nuan), Xiaogang Gu
FEATURE FILM COMPETITION
Abou Leila, Amin Sidi-Boumédiène
Land Of Ashes (Ceniza Negra), Sofía Quirós Ubeda
A White, White Day (Hvítur, Hvítur Dagur), Hlynur Pálmason
I Lost My Body (J'ai perdu mon corps), Jérémy Clapin 

Our Mothers (Nuestras Madres), César Díaz
The Unknown Saint, Alaa Eddine Aljem
Vivarium, Lorcan Finnegan
SPECIAL SCREENINGS
Heroes Don't Die (Les Héros Ne Meurent Jamais), Aude Léa Rapin
Tu Mérites Un Amour, Hafsia Herzi
SHORT FILMS COMPETITION
Party Day (Dia De Festa), Sofia Bost
The Trap (Fakh), Nada Riyadh 

Ikki Illa Meint, Andrias Høgenni
Journey Through A Body, Camille Degeye
Community Gardens (Kolektyvinai Sodai), Vytautas Katkus
Lucía En El Limbo, Valentina Maurel
The Manila Lover, Johanna Pyykkö
Tuesday From 8 To 6 (Mardi De 8 à 18), Cecilia de Arce
She Runs, Qiu Yang
The Last Trip To The Sea (Ultimul Drum Spre Mare), 
Adi Voicu
SHORT FILMS SPECIAL SCREENING 1
Demonic, Pia Borg
Naptha, Moin Hussain
Please Speak Continuously And Describe Your Experiences As They Come To You, Brandon Cronenberg
SHORT FILMS SPECIAL SCREENING 2
Invisible Hero (Invisível Herói), Cristèle Alves Meira
Tenzo, Katsuya Tomita