Number 9 Films, the London-based producer behind Carol and Colette, has struck a first-look deal with Japanese studio Shochiku, which will have first option for distribution rights in Japan on its future titles.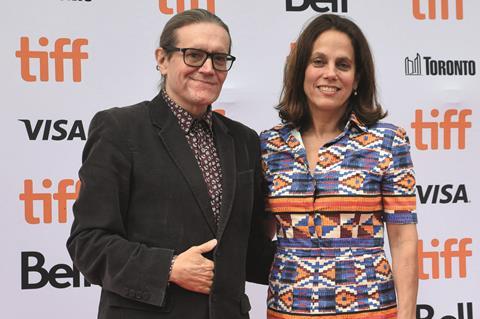 The unusual pact follows Shochiku's identification that prestige English-language, female-led titles perform well theatrically in Japan. Shochiku has had recent hits with Aisling Walsh's Maudie, starring Sally Hawkins, and Bjorn Runge's The Wife, with Glenn Close, both of which grossed around $1m in the territory.
It is the first deal of its kind for Shochiku outside Japan.
"We've had our eye on Number 9 Films for quite some time now, looking for an opportunity to work with them," said Meri Koyama, Shochiku's senior manager, acquisitions, "We feel Number 9 and Shochiku share the same value in films we deliver, films with good quality and good stories that resonate with all of us."
Number 9's recent slate includes Colette starring Keira Knightley, On Chesil Beach with Saoirse Ronan, Their Finest with Gemma Arterton, and Carol with Cate Blanchett and Rooney Mara. The latter was nominated for six Oscar in 2016.
As part of the multi-year deal, Shochiku will contribute to Number 9's overhead and development funding. In return, it will get a first opportunity to pick up Japanese rights on any feature titles produced by the company.
Number 9, run by Stephen Woolley and Elizabeth Karlsen, is in active development on drama The Assessor, written by Nell Garfath-Cox and David Thomas and Mothering Sunday, Alice Birch's adaptation of Graham Swift's award-winning novel of the same name. Film4 is backing the two projects and both could shoot in early 2020.
The development slate also includes So Much Love, the Dusty Springfield biopic that was announced last year, to which Arterton is attached.
Woolley said the deal fitted into Number 9's usual structure for financing features, which typically includes a couple of pre-sales in the budget.
If Number 9 now sells a film to a studio or an all-rights buyer such as Netflix, Japan will be excluded from that deal, presuming Shochiku takes up its option.
The production outfit has had first-look deals in the past, including with Film4 and Dreamworks, but currently has no other such agreements.
"Most of our films are released by individual distributors around the world," Woolley explained. "The chances of our films being picked up by a studio aren't great overall, so it doesn't make sense for us to turn something down on the basis we might get a studio deal. It's very exciting for us because it doesn't exclude anything from our normal pattern of financing, and it gives Shochiku an advantage because it puts them in the hot seat for everything we do that's theatrical.
"The deal also helps us keep the company going, and gives us more time to get the right director and casting onto projects. Without studio backing you're often forced into a situation where you're making films because you need to pay the rent.
"Hopefully next year we'll go through another bumper production period of making films. But you do need space in between films. This deal gives us the time to create the right foundations on everything we make," he explained.
Shochiku is one of Japan's oldest film studios, and has a rich history encompassing many classic Japanese films, such as Yasujirō Ozu's 1953 drama Tokyo Story. It produces film and TV, and also buys international films for release in Japan, with recent titles including Captain Fantastic and Bushwick.