UPDATED SEPT 10: CBS Films top brass said on Tuesday evening (September 10) they had acquired US rights to Michael Dowse's The F Word in a deal understood to fall between $2.5m and $3m.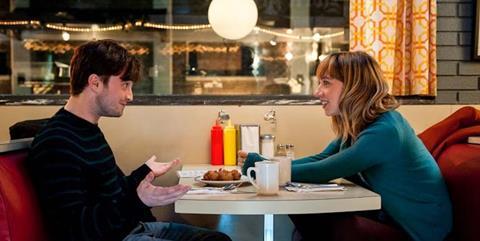 Daniel Radcliffe and Zoe Kazan star in the offbeat romance and No Trace Camping's David Gross, Jesse Shapira and Jeff Arkuss produced the film along with Macdara Kelleher and Andre Rouleau.
Focus Features' $7m Saturday swoop on world rights to Jason Bateman's feature directorial debut Bad Words and The Weinstein Company's $7m spend on Can A Song Save Your Life? a day later remain the biggest deals.
On Monday, Millennium Entertainment paid $3m for John Turturro's Fading Gigolo and A24 kicked things off last Friday with a $1.25m move on US rights to Steven Knight's Locke.
At time of writing interest continued to swirl around Horns, Supermensch and Mike Flanagan's Midnight Madness entry Oculus, among others.
Agents chose to show more films in private screenings this year. CAA screened Locke several times and also gave buyers a sneak preview of festival closer Life Of Crime before they left town.
Hyde Park International handles sales on the latter outside the US and several others got in on the action, including Voltage Pictures with a screening of The Zero Theorem, The Solution Entertainment Group on Felony and IM Global on Locke.
The latter recruited a number of female fans to attend a buyer screening of the documentary Justin Bieber Believe, one of two high-profile new titles that also included Sleeping With Other People starring Kirsten Dunst.
Exclusive Media concluded a multi-territory deal with Sony Pictures Worldwide Acquisitions on festival selection Therese, while FilmNation started talks on Anton Corbijn's Life to star Robert Pattinson and Dane DeHaan.
Focus Features International introduced buyers to Somnia, Intrepid's follow-up to Oculus.