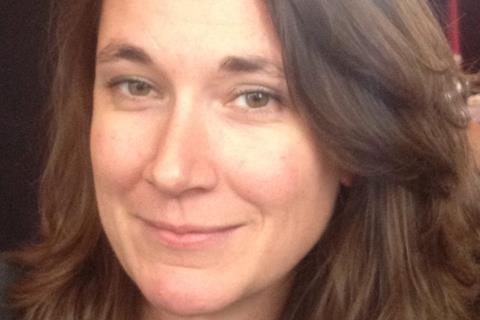 Charlotte Boucon makes her debut as the new head of world sales at Orange Studio at the MIA film and TV market (Oct 13-17) in Rome this week, with a diverse slate ranging from Somalian Oscar submission The Gravedigger's Wife to comedy franchise Serial (Bad) Weddings 3.
The sales veteran took up the position at the film and TV arm of French telecoms giant Orange on September 1, after nearly a decade at SND, the cinema arm of the M6 Group, where she rose to the position of international sales director from 2015.
"I wasn't in Cannes as I was between the two roles so this is actually my first physical market since Berlin 2020, even if I've done lots of virtual events," says Boucon.
"Beyond whether buyers are physically attending markets, the big question for me is what is the state of the business," she continues.
"We haven't had Toronto which is normally the market that kickstarts the circuit after the summer. MIA will be a first opportunity to sit down with buyers to find out where they are right now, whether they're buying, the state of their line-ups and planned release dates."
Unlike her predecessor Daniel Marquet, who focused on international sales, Boucon's remit also encompasses domestic French sales as well as handling ancillary deals for all platforms at home and internationally.
"We're focused on cinema with TV series co-produced by Orange Studio handled by other distribution partners, as of now," she explains, suggesting this might change in the future.
Boucon arrives in Rome with a diverse 20-title slate. Aside from The Gravedigger's Wife, other recent festival selections include Cyril Dion's documentary Animal and Aïssa Maïga's Above Water, which both screened in Cannes' new Cinema for the Climate section; Cannes Premiere selection Love Songs For Tough Guys; and Tribeca 2021 title Last Film Show by Indian director Pan Nalin.
It also features a raft of mainstream comedies including Clovis Cornillac's comedy-drama C'est Magnifique! in which he also stars as a man looking for his roots after he discovers he is adopted, comedy road movie Zaï Zaï Zaï Zaï, and Serial (Bad) Weddings 3, which is scheduled for release in France on February 2, 2022.
Boucon also hopes to begin talks on a number of features that are expected to launch in festivals in 2022, notably Italian director Pietro Marcello's French-language debut L'Envol, described as a period drama set between the first and second world wars mixing reality, music and fantasy, and Philippe Loiret's coming-of-age drama Sixteen.
She acknowledges that the editorial line of the slate is wide. "We're in a market that's been very shaken up. The idea at Orange Studio is to look for opportunities in that, even if it's complicated, and with this in mind, we're open to everything, nothing is off-limits. I am looking for beautiful films that make sense for France and internationally. There are no rules on what works and what doesn't.
"Daniel continued the work of opening up the slate to cinema d'auteur and festival titles and the idea is to build on that as we have seen those films can sell and travel," she adds. "It's too risky right now to be focused on a particular type of film. What works today may not work in six months time. It's in our interest to have a diverse slate."
Boucon, who handled a number of big feature animation titles such as Asterix – The Mansions Of The Gods and Pil's Adventures at SND, also plans to bump up the animation offering.
"I'm starting to seriously look at animation which the Orange Studio hasn't done for a while even though it's been involved in the genre in past, financing a large chunk, for example, of The Little Prince," she says, referring to the 2015 production which was co-sold with Wild Bunch.
Another area Boucon is interested in, following on from Orange Studio's experiences with The Gravedigger's Wife, is cinema out of Africa, where parent company Orange has a growing footprint.
"A lot of the films are made mainly for the local market but this year we have four Orange Studio films and one series at Fespaco (the Panafrican Film and Television Festival of Ouagadougou) that we will work on internationally," she says.
Alongside The Gravedigger's Wife and Maïga's documentary Above Water, exploring the impact of water shortages in the Niger region, they comprise Rwandan filmmaker Mutiganda Wa Nkunda's Kigali-set drama Nameless and Ta Kami by Burkina Faso director Kollo Daniel Sanou.