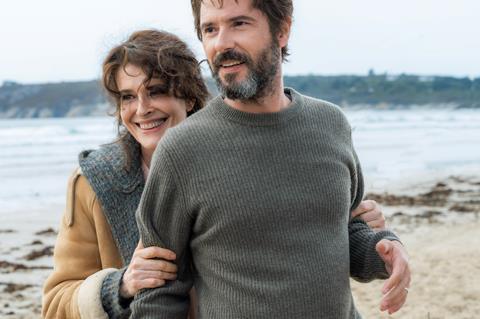 French sales companies will be out in force at Rome's MIA film and TV market (October 13-17) as the global film and TV market circuit continues to shift due to the pandemic Covid-19.
French sellers have been busy networking at the Venice and San Sebastian film festivals this autumn, but MIA represents the first physical market since Cannes in July for most after only a handful of European professionals made the trip to Toronto in September.
MIA will also be the last opportunity for face-to-face meetings with buyers in 2021 due to AFM moving online, although many sales companies are planning to participate virtually in November.
Screen's highlights the buzz titles French sellers are bringing to MIA. Read here to find out what the rest of Europe's sales companies are focusing on.
The Party Sales is kicking off sales on Belgian actor Veerle Baeten's directorial debut When It Melts, which is also being presented in Flanders Re>Connext's Work in Progress selection this week. It follows a woman who returns to her home village hellbent on revenge against those who abused her as a child. The company also has the market premiere of Argentinian filmmaker Agustine San Martin's Amazon jungle-set sexual awakening drama To Kill The Beast which debuted in TIFF Discovery. The company will also screen Cannes titles Jane By Charlotte, The Sea Ahead and Returning To Reims.
mk2 Films is market premiering Carine Tardieu's romantic drama The Young Lovers starring Fanny Ardant opposite Melvil Poupaud as a 70-year-old woman who embarks on an affair with a married doctor 25 years her junior, and Jérôme Bonnell's The Love Letter in which a 40-something Parisian looks back over his life and past relationships as he writes a missive to his ex-girlfriend in a bid to win her back. The Young Lovers will also make its international festival premiere in the Rome Film Festival, in the presence of the director, Poupaud, and Ardant, who has a big following in Italy.
France tv has Sylvie Audcoeur's psychological thriller An Ordinary Mother, starring Karin Viard as a woman who plots revenge when the young man who killed her 17-year-old son in a street fight some five years previously unwittingly walks into her life. It also continues sales on Fabienne Berthaud's social drama Little Man Tom and Parisian Hustle, starring Raw actress Garance Marillier as a manicurist with a night-time side hustle, introducing her female clients to VIPs on the Paris party scene. It is the second feature from social activist, hip-hop and filmmaking duo Hamé Bourokba and Ekoué Labitey after the 2016 drama Paris Prestige.
Charades is introducing buyerrs to Israeli director Moshe Rosenthal's debut feature Karaoke with a first promo reel. The comedy drama stars Sasson Gabay and Rita Shukrun as a couple who become obsessed with a glamourous new neighbour, played by Lior Ashkenazi. It will also kick-off sales on rural thriller Piggy (aka Cerdita) by Spanish TV drama veteran Carlota Pereda [pictured]. It expands on her 2018 award-winning short about a teenager who is mercilessly bullied about her weight.
Studiocanal has the market premiere of two French-language productions: Régis Roinsard's comedy drama Waiting For Bojangles, starring Virginie Efira, Romain Duris, Grégory Gadebois and Solan Machado-Graner, and the political thriller Goliath, starring Pierre Niney, Gille Lelouche and Emmanuelle Bercot as three people thrown together by an anonymous act of environmental activism.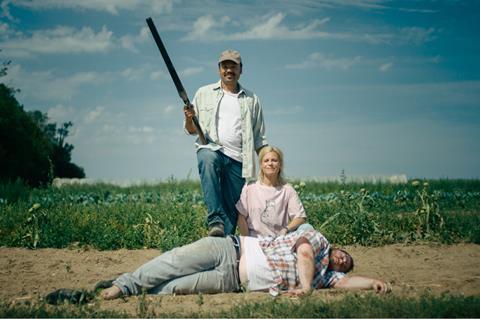 TF1 Studio is screening Fabrice Eboué's dark comedy Some Like It Rare in which he stars opposite Marina Foïs, as a butcher couple come up with a new range of ham after they kill a vegan activist. The film has just enjoyed a well-received US premiere at the Fantastic Fest in Austin and plays in competition at Sitges this week. It will also market premiere German director Marten Persiel's environment-focused drama Everything Will Change following its world premiere in Zurich, as well as Alexandra Leclère's Price Of Parenting. Josiane Balasko and Didier Bourdon play a couple suffering from empty nest syndrome who pretend to win the lottery to draw their children back.
Playtime has market screenings for three TIFF titles: Belgian director Fabrice du Welz's domestic thriller Inexorable, romantic drama Nobody Has To Know, the English-language debut of Belgian director and actor Bouli Lanners, and Laurent Cantet's Arthur Rambo, about the rise and fall of a young blogger and writer in the age of social media. The latter also played at San Sebastian.
Wild Bunch International is continuing sales on a raft of titles launched at Cannes, Venice and San Sebastian, including Nitram, Casablanca Beats, Vortex, Another World, Hole In The Fence, Mama I'm Home, Unclenching The Fists and Undercover, with a special focus on One Second, The Crusade, Where Is Anne Frank and Earwig, which all screen in Rome Film Festival.
Gaumont is focusing on French intellectual and philosopher Bernard Henri Lévy and Marc Roussel's documentary The Will To See, which will world premiere as a special event at the Rome Film Festival and also screen in the market. It follows Lévy as he is sent to witness and report from the sites of eight humanitarian crises in Nigeria; Syrian and Iraqi Kurdistan; Ukraine; Somalia; Bangladesh; Lesbos, Greece and Libya that have been forgotten by the world. An accompanying book will be published in the UK and the US later this month.
Urban Distribution International is launching sales on Portuguese filmmaker José Miguel Ribeiro's animated feature Nayola, following three generations of women impacted by Angola's 25-year civil war. It will show a first promo reel for the production which was presented at Annecy's prestigious Work in Progress selection last June. The company will also screen Mexico-set kidnap drama La Civil, which premiered in Cannes Un Certain Regard in July, winning the section's Prize of Courage.
Elle Driver is showcasing its autumn festival slate featuring TIFF Midnight Madness breakout Saloum; Venice Horizons selection Promises, starring Isabelle Huppert as an ambitious mayor at a political crossroads, and Jordanian drama The Alleys, which debuted in competition at Locarno and plays in the LFF's First Feature Competition.
Le Pacte has the market premiere of Italian director Dario Albertini's Anima Bella about a young shepherdess uprooted from her rural home by her father's gambling addiction. It is Albertini's second fiction feature after the award-winning 2017 drama Manuel. It is also introducing buyers to French director Fabien Gorgeart's drama The Family, starring Melanie Thierry as a foster mother forced to let go of a young boy she has come to consider as her own son. The film has gone down well on the French festival circuit this summer, winning best film and best actress for Thierry at Angouleme in August, and then, best film and the audience prize in Valenciennes.
Kinology will be talking up Aurelie Saada's Rose, starring Françoise Fabian as a 78-year-old woman who defiantly discovers a new zest for life after losing her beloved husband. Cohen Media Group has acquired all North American rights on the eve of the market. The film had a buzzy premiere in Locarno. Its slate also features After Blue, which world premiered in competition in Locarno, wining the Fipresci prize, before heading to TIFF's Midnight Madness and the Fantastic Fest In Austin where it won best film. It lands next at Sitges. The slate also features BFI LFF selection Mass and Cannes 2021 contender Ahed's Knee.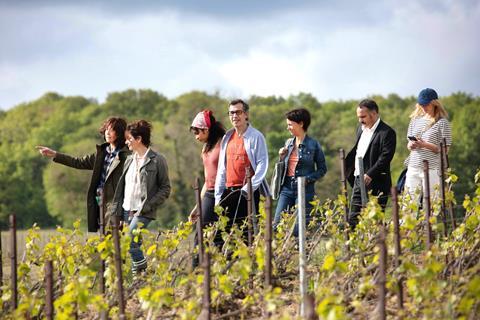 SND is launching Nicolas Vanier's ensemble comedy-drama Champagne! featuring Eric Elmosnino, Elsa Zylberstein and Sylvie Testud and set around a stag weekend in the Champagne region. It is also showing first images for Jérôme Salle's political thriller Kompromat, inspired by the true story of a French diplomat who was falsely framed for a crime by the Russian secret services, and Patrice Leconte's Maigret, starring Gérard Depardieu as the iconic French detective.
Reel Suspects' slate includes Belgian director Christophe Hermans' drama The Hive, which also makes its world premiere in the Rome Film Festival. Ludivine Sagnier co-stars as a self-destructive, bipolar woman with three daughters, who try to save her against the odds.
Memento International will market premiere Israeli filmmaker Orit Fouks Rotem's Cinema Sabaya in which women on both sides of the Israeli-Palestinian conflict are brought together through a filmmaking workshop. It won best first feature in the Israeli competition at the Jerusalem Film Festival this summer. The company also continues sales on Venice competition title Captain Volkonogov Escaped, which has since opened the Warsaw Film Festival and screens in Chicago and Busan; Venice Horizons thriller Miracle and Palestinian director Hany Abu Assad's drama Huda's Salon, which began its career in Toronto's Platform competition.
Indie Sales is pre-selling Blandine Lenoir's women's rights drama Angry Annie starring Laure Calamy, which is now in post-production and is also continuing sales on a raft of titles launched in Cannes including Palme d'Or contender France, Un Certain Regard hit Playground, activist documentary Bigger Than Us, Directors' Fortnight selection Magnetic Beats and Critics' Week titles Bruno Reidal: Confession Of A Murderer and Robust.
Les Films du Losange is talking to buyers about Cambodia's best international film Oscar submission White Building, for which dancer Piseth Chhun won best actor at Venice's Horizons last month. Upcoming titles include Mia Hansen-Løve's drama One Fine Morning starring Léa Seydoux, as a single mother, juggling caring for her ailing father and a passionate affair and Norwegian animated feature Titina.
Orange Studio is attending with diverse slate including Cyril Dion's documentary Animal, which screened in Cannes' new Cinema for the Climate section and won an environmental prize in Turin. It also has Cannes Critics' Week selection The Gravedigger's Wife, which has just been announced as Somalia's first-ever submission to the best international film category of the Oscars. It is also continuing pre-sales on upcoming comedies ZaiZaiZaiZai and Serial Bad Weddings 3 as well as beginning talks on a trio of 2022 festival hopefuls: Philippe Loiret's Sixteen, Pietro Marcello's L'Envol and Nicolas Giraud's The Astronaut.
Bac Films has the market premierer of whodunnit The Murder Party starring Alice Pol as an architect hired to renovate the mansion of a board games magnate who winds up the prime suspect in a real-life game of Cluedo when her employer is found dead. The company is also unveilling the first promo-reel for Canadian actress and director Monia Chokri's #MeToo-era comedy drama Babysitter.
Pyramide International is beginning sales on Israeli actor and director Pini Tavger's debut feature More Than I Deserve (originally announced as Pinhas) about a Russian boy coming to terms with a new life in Israel with his single mother. The film world premiered in Jerusalem, winning the Dalia Sigan award for best screenplay in the Israeli feature competition. The company is also participating in MIA's C EU Soon work in progress sidebar with Eve Duchemin's Temps Mort, starring Karim Leklou, Issaka Sawadogo and Jarod Cousyns as three men on 48-hour parole. It also has a market screening o summer festival titles: Amira from Venice, Tralala from Cannes, and Locarno Golden Leopard contender Secret Name. The latter is a loose adaptation of Wilkie Collins's The New Magdalen, transposed to 1914 and starring Papicha co-star Lyna Khoudri.
Pulsar Content will be in town with Russian director Lado Kvataniya's serial killer thriller The Execution, which enjoyed a buzzy premiere at Austin's Fantastic Fest and also plays at Sitges. It will also screen Stephen Fingleton's Belfast-set thriller Nightride, which was selected for TIFF's Industry Selects sidebar, and Switzerland's Oscar submission Olga. Upcoming projects include feelgood comedy drama Wilderness Therapy for which it has a first promo reel.
MPM Premium is kicking off sales on Azerbaijani director Hilal Baydarov's drama Crane Lantern about a law student's interviews with a serial kidnapper whose female victims never press charges. Produced by Marie-Pierre Macia, Carlos Reygadas and Joslyn Barnes, it will make its world premiere at the Tokyo International Film Festival later this month. The company is also talking about Moroccan drama Life Suits Me Well, which has lined up a number of unannounced winter festival outings, and continuing sales on Cannes Directors' Fortnight title Europa.
Reservoir Docs is screening French-Israeli filmmaker Michale Boganim's documentary The Forgotten Ones, which world premiered in Venice's Gironate degli Autori. It explores discrimination against Jewish people who immigrated to Israel from North Africa and the Middle East in the 1950s, through the story of the director's father who arrived from Morocco. The company is also screening Norwegian director Hans Lukas Hansen's The Quest For Tonewood, following the extraordinary and sometimes perilous quest of a violinmaker to source a rare type of wood to make the perfect violin.
Wide has a raft of titles screening in MIA's Digital Room platform including Sol Berruezo Pichon-Rivière's Nuestros Días Más Felices, which debuted in the Venice's Biennale College line-up in September, and documentary Milan Kundera: From The Joke to Insignificance about the Nonagenarian, Paris-based Czech writer best known internationally for The Unbearable Lightness Of Being. It is the latest documentary by Czech filmmaker Milos Smidmajer who previously explored the life and career of Milos Foreman.