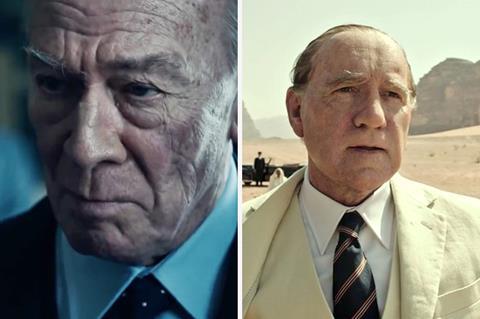 Christopher Plummer earned a best supporting actor Golden Globe nomination for his work on Ridley Scott's All The Money In The World after replacing Kevin Spacey at the last minute.
Just 33 days ago on November 8, director Ridley Scott announced that he would take the extradordinary step of completely reshooting all of Spacey's scenes after the actor was hit with multiple sexual misconduct claims.
Plummer replaced him in the role of industrialist J Paul Getty (he was always 'on the list' for the part) and luckily his new cast members were available for last-minute reshoots, according to an interview Scott gave to Entertainment Weekly.
It is understood Spacey did no more than 10 days' work on the film and wore heavy make-up in character as the oil magnate, who refuses to buckle when his grandson is abducted by the Italian Mob. Michelle Williams plays the boy's mother and Mark Wahlberg is Getty's advisor.
Williams has also earned a Golden Globe nomination for actress in a motion picture - drama, as did Ridley Scott for best director.
Scott certainly earned his recognition for reshooting much of the film with just a few weeks to go before the film's December 25 US release date.
Scott said he never considered pushing back the release date and never spoke to Spacey after re-casting him.
Describing his approach to getting the scenes done on time, he said: "I move like lightning. I'm already two scenes ahead. It's simple! If you know what you're doing, you don't need 19 takes. You do one for the actor, one for me. It's all planned out. When you storyboard, you've already pre-filmed the movie in your head — the wide shots, close shots, establishing shots. You've gotten some of your weird ideas when you're quietly sitting, storyboarding by yourself."
Imperative Entertainment financed the drama, with Dan Friedkin and Bradley Thomas serving as producers along with Scott Free's Scott and Kevin J. Walsh, Quentin Curtis and Chris Clark.