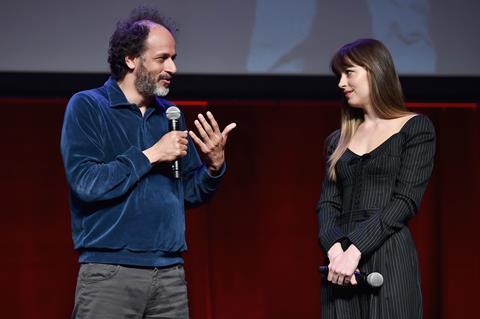 Thursday afternoon's (April 26) Amazon Studios CinemaCon session featured disturbing footage from Luca Guadagnino's Suspiria remake.
The studio's head of marketing and distribution Bob Berney presided over a slate presentation that includes Beautiful Boy, Pawel Pawlikowski's Cannes selection Cold War, and Mike Leigh's Peterloo, which Berney said was in post and is being targeted for an autumn festival berth.
Teeing up exclusive footage from Guadagnino's remake of Dario Argento's 1977 'giallo' horror Suspiria, Berney warned attendees what they were about to see was "not for the squeamish." And so it proved to be, as the audience witnessed Dakota Johnson play a dance student under the tutelage of Tilda Swinton at a Berlin academy in the 1970s whose body is seemingly possessed by a malign force.
The film opens this autumn and features the first film score by Radiohead frontman Thom Yorke. "We wanted to immerse the audience in a world from where there was no escape, no way out," Guadagnino told attendees.
"It was so hardcore," Johnson said of her four-month regime to familiarise herself with the style of modern dance seen in the film. "It's aggressive and not necessarily pretty, and hard on your body."
There was moving exclusive footage from Plan B's father-son drug addiction drama Beautiful Boy (October 12) directed by Felix Van Groeningen.
Steve Carell praised co-star Timothée Chalamet, whose contribution via Skype from London was stymied by technical issues. Berney noted the timeliness of the story during the American opioid addiction crisis.
The executive also teed up – with the help of Amazon's smart home product Alexa – footage from Life Itself (September 21) by This Is Us creator Dan Fogelman, a multi-generational love story starring Oscar Isaacs, Annette Bening, Antonio Banderas, and Olivia Cooke.
A segment on Gus Van Sant's Sundance and Berlin selection Don't Worry He Won't Get Far On Foot (July 13) brought Jack Black and Jonah Hill on to the stage.
Berney highlighted several other entries on the 2018 slate: Pawel Pawlikowski's Cannes entry Cold War, Mike Leigh's aforementioned Peterloo; and Sundance selection documentary Generation Wealth.
Upcoming productions include: Radioactive from Working Title starring Rosumund Pike as Marie Curie; the romancePhotograph from The Lunchbox director Ritesh Batra; family comedy Troupe Zero with Viola Davis directed by the female duo Bert & Bertie; and adventure story The Aeronauts with Eddie Redmayne and Felicity Jones.
Amazon Studios head of worldwide movies Jason Ropell kicked off the session when he said, "We're here to bring our customer what they want, which is great movies. Of course it's also a time of change in the movie business whether we like it or not. Although the landscape is changing dramatically, we believe the fundamentals haven't changed. People love watching movies in cinemas."