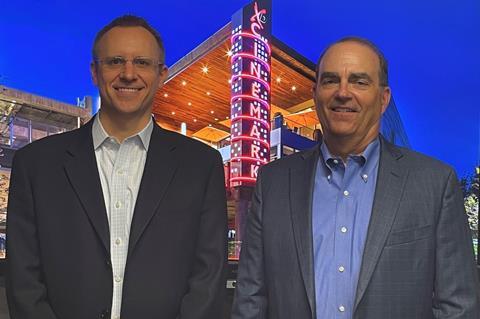 Cinemark CEO Mark Zoradi will step down at end of the year and will be succeeded by CFO and COO Sean Gamble on January 1, 2022.
Effective as of Wednesday (July 28), Gamble has been named president and will assume the role of CEO and president following Zoradi's retirement.
Zoradi has served more than 40 years in the industry – the past six at the helm of the exhibitor – and intended to retire last year before the pandemic struck.
He will work with Gamble and the executive leadership team until he steps down, and continues as a board director until the 2024 annual meeting when his continuing term will be subject to board nomination and shareholder election.
"Serving as Cinemark's CEO during the past six years has truly been the highlight of my career," said Zoradi, whose career roles have included president of the Walt Disney motion picture group.
"Sean has been a tremendous partner in overseeing Cinemark's operational execution and strategic vision, as well as effectively navigating the prolonged effects of COVID-19. As the industry is now on the path to recovery from the pandemic, I felt it was time to begin transitioning the CEO role to Sean's capable hands."
Gamble served as EVP and CFO of Universal Pictures prior to joining Cinemark, and held senior leadership roles within the General Electric Company prior to Universal.
The search for a new CFO and COO has begun and Cinemark leadership is expected to say more about the transition at CinemaCon next month.
Wanda Gierhart Fearing has been promoted to chief marketing and content officer, Damian Wardle has been promoted to EVP theatre and technology operations, and Sid Srivastava has been promoted to EVP human resources, diversity, equity and inclusion and corporate social responsibility.