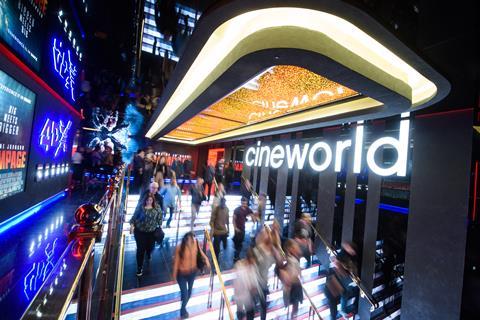 October and December were the strongest two months of 2021 for UK-based Cineworld, the world's second largest cinema chain, according to a trading update published today.
The company has revealed a month-by-month comparison of box office and concession revenue from July-December 2021, based on the same months in 2019. It does not contain actual figures.
Overall, October lead the way in the 10 territories in which the Cineworld Group operates. Box office and concessions revenue stood at 90% of the level it was in October 2019.
The UK and Ireland (where the company operates the Cineworld and Picturehouse cinemas) even out-performed 2019's levels for the same month by 27%. This was propelled by the release of Universal's No Time To Die, released at the end of September, and Warner Bros' Dune.
A slump to 56% for the group was then felt in November, a month that saw the release of Top Gun: Maverick pushed to May 2022.
However, the release of Sony's Spider-man: No Way Home in December 2021 saw an upswing in cinema-going around the world that meant box office and concessions revenues reached 88% of the levels achieved in December 2019. Spider-Man: No Way Home is the first film to gross more than $1.5bn at the box office since the onset of the Covid pandemic.
In the US, where Cineworld owns Regal Cinemas, December was the strongest single month, with revenues at 91% of that of the same month in 2019. In the UK and Ireland, revenues in December 2021 reached 89% of their levels for the same month in 2019.
Rest of the world
In territories outside of US, the UK and Ireland, Cineworld ended the year with its revenue at 72% of 2019 in December 2021. This was likely owing to tightened government restrictions in the face of enhanced pandemic fears. Cineworld operates cinemas in Bulgaria, Czech Republic, Hungary, Israel, Poland, Romani and Slovakia.
Cineworld has revealed that, overall, it has generated positive cash flow for the final quarter of 2021. This is a contrast to the trading report for the six-month period ending June 30 2021, in which the group reported an operating loss of $208.9m – down 58.9% on 2020.
The London-based company did not end 2021 on an entirely positive note, however, owing to its December defeat in a legal case brought by Canadian chain Cineplex, regarding the abandoned takeover of Cineplex by Cineworld in mid-2020. Cineplex was awarded damages of C$1.23bn ($955m) for lost synergies, plus C$5.5m ($4.3m) in transaction costs, with Cineworld's counter-claim dismissed. Cineworld served notice of appeal against the decision of the Ontario Superior Court of Justice on January 12.
Cineworld will announce its full year results on March 17, 2022.