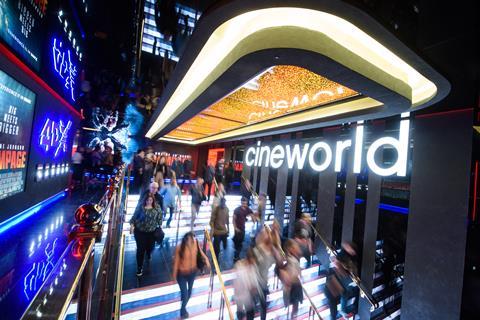 UK-based exhibitor Cineworld Group has posted a pre-tax loss of $3bn and revealed it will raise an additional $213m from investors to help with reopening amid future Covid-19 uncertainty.
The company, which recently announced reopening plans in the US and UK, today reported that group revenue had dropped by more than 80% to $852 million in 2020 from $4.3 billion in 2019.
With all 767 sites across 10 countries remaining largely closed since mid-March 2020, admissions plummeted from 275 million to 54.5 million.
The leading multiplex exhibitor, which also owns US cinema chain Regal, posted a loss after tax of $2.65bn in the year ended December 31, compared to profit of $180.3m in 2019.
The additional liquidity of $213m is on top of the $811 million raised in 2020, which Cineworld CEO Mooky Greidinger said would provide "a significant liquidity buffer as we reopen across the world," and added: "We remain confident about the next chapter of our development.
Ahead of a planned reopening in the US from April 2 and from May 17 in the UK, the exhibitor said it anticipated "strong pent-up demand for affordable out-of-home entertainment".
Greidinger added: "For all of us across the world, this has been an incredibly challenging year. Covid-19 has created a huge amount of stress and uncertainty, both in business and in our personal lives. At Cineworld, I never imagined a time that we would see the closure of our entire cinema estate, nor that varying restrictions would remain in place for so long as we continue to navigate our way through this crisis.
"I am immensely proud and inspired by the response of our people to these very difficult circumstances. We have worked hard to strengthen the long-term prospects of the business and, looking forward, Cineworld enters 2021 confident about the next chapter in our development; not least the intention to reopen our cinemas starting April 2."
Theatrical window
Earlier this week, Cineworld also revealed it had struck a multi-year agreement with Warner Bros to theatrically screen new releases exclusively for 45 days in the US, and 31 days in the UK, from 2022. Select films will debut in UK cinemas exclusively for 45 days if they sell an agreed number of tickets at the box office.
Despite this reduction in the existing theatrical window (around 75 days in the US and 110 in the UK), Greidinger today said: "While we have seen changes to the theatrical release window policy in our industry during 2020, our position remains unchanged. We see the window as an essential part of our business and most of our studio partners remain committed to it as big supporters of the theatrical business.
"While the window may therefore be slightly shorter moving forward, I believe it is clear that a window of theatrical exclusivity should remain once business gets back to normal."