EXCLUSIVE: Edward Noeltner's sales company announces slew of Berlin deals led by Ainbo, New Life; horror-thriller Havenhurst sells to Soda Pictures in UK.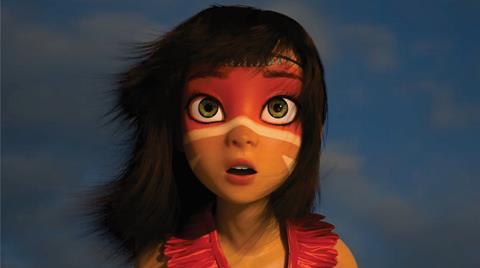 Beverly Hills-based Cinema Management Group (CMG) announced on Monday it has licensed Tunche Films' 3D CGI animated Ainbo – Spirit Of The Amazon (pictured) in 12 territories led by a deal with Turbo Films in China.
Company president Noeltner and his team also closed deals in the Baltics (Best Film), former Yugoslavia (Blitz Film & Video Distribution), Israel (Film House), Middle East (Front Row), Poland (Kino Swiat), Portugal (Cinemundo), South Korea (First Run), and Vietnam, Laos, Cambodia, and Myanmar (Blue Lantern).
Brothers Sergio Zelada, Cesar Zelada and writer-director Jose Zelada founded Peru-based Tunche Films in 2003 and produced Ainbo and Noeltner acquired sales rights following a trip to Ventana Sur in Buenos Aires last December.
Argentum Entertainment's romantic drama New Life has gone to Germany (Capelight Pictures), Scandinavia (BLD Media), China (Jetsen), Middle East (Front Row), Portugal (Cinemundo) South Korea (First Run) and airlines (Captive Entertainment).
Drew Waters directed the film starring Erin Bethea, Jonathan Patrick Moore, James Marsters, Terry O'Quinn and Bill Cobbs star and Broad Green holds US rights.
The School, CMG's new supernatural horror-thriller from Australian producers Bronte Pictures, has gone in Middle East (Front Row), South Korea (First Run), and Malaysia, Vietnam, Laos, Cambodia, and Myanmar (Golden River). Storm Ashwood makes his feature directorial debut feature and the producers are Blake Northfield, Ciaran Jordan and Jim Robison.
An Act Of Defiance, a political thriller from Richard Claus & Co. and Spier Films, sold to Middle East (Front Row), Portugal (Cinemundo), and South Korea (First Run), after an earlier deal for India with Gakhal Entertainment.
The feature is based on the book 'The State vs. Nelson Mandela' by Joel Joffe. Jean van de Velde adapted the screenplay and directed, while Richard Claus and Michael Auret served as producers.
Among CMG's upcoming titles for release in 2017 Loving Vincent, produced by Oscar winners Breakthru Films and Trademark Films, recruited its 28th international distributor with the signing of Cineart for the Benelux. The Little Vampire 3D, slated for a worldwide release in October, landed with Cinemundo in Portugal, its 27th international distributor.
Mission Kathmandu is due to be completed in November and went to First Run in South Korea, while both Ping Pong Rabbit and Seal Team sold to Best Film in the Baltics.
In a smattering of deals on completed films, the UK's Soda Pictures has acquired Havenhurst, while Khumba, The Legend Of Sarila, and Saving Santa have gone to MediAsia in Singapore; and The Possession Experiment has landed with First Run in South Korea.
"I couldn't be more enthusiastic about the sales our slate brought us this year at the European Film Market," Noeltner said. "We continue to offer a diverse range of high quality animation and genre films, and continue to work with award winning filmmakers to bring exciting new films to the worldwide marketplace."
Vice-president of sales and operations Dené Anderberg will fly to Filmart in Hong Kong and Noeltner will attend Cartoon Movie in Bordeaux this week where The Little Vampire 3D will be presented as a work in progress and is scheduled to open at Halloween.
Loving Vincent and An Act Of Defiance are on track to open worldwide later this year.