| | | | | |
| --- | --- | --- | --- | --- |
| Rank | Film (distributor) | Three-day gross (Feb 24-26) | Total gross to date | Week |
| 1. | Ant-Man And The Wasp: Quantumania (Disney) | £3.05m | £14.65m | 2 |
| 2. | Puss In Boots: The Last Wish (Universal) | £1.76m | £20.5m | 4 |
| 3. | Cocaine Bear (Universal) | £1.58m | £1.58m | 1 |
| 4. | What's Love Got To Do With It? (Studiocanal) | £1.03m | £1.08m | 1 |
| 5. | Magic Mike's Last Dance (Warner Bros) | £470,000 | £4.9m | 3 |
GBP to USD conversion rate: 1.20
Universal's Cocaine Bear led the weekend's new titles at the UK-Ireland box office, taking £1.58m from February 24-26.
The comedy thriller, directed by Elizabeth Banks, landed third on the chart with an average of £2,666 from 594 locations. Very loosely inspired by the story of a bear that ingested a bag of cocaine, it topped Banks' reboot of Charlie's Angels in 2019, which opened on £547,246 and closed on £1.1m. It has also opened higher than genre features such as Plane (£1.1m), Moonfall (£1.1m) and Beast (£600,000),
Disney's Ant-Man And The Wasp: Quantumania held the lead on its second outing, taking £3.05m for a cume of £14.65m. Playing in 682 sites, the film recorded a £4,479 location average.
The latest in the Marvel Cinematic Universe franchise was down 66% on its opening weekend. For comparison, the first Ant-Man fell 38% on its second weekend in July 2015 and sequel Ant-Man And The Wasp had a similar dip of 39% in August 2018. However, Quantumania is ahead of both predecessors, which had taken £9.6m and £10.5m at this stage of their releases respectively.
Universal's Puss In Boots: The Last Wish held second place on its fourth weekend, taking £1.76m – a 45% drop on its previous outing. The film now has £20.5m, surpassing the £15.6m of the first film. With an average of £2,507 from 712 locations, it could not quite match Universal stablemate Cocaine Bear, which scored the second highest average of the three-day weekend with £2,666. But the animated sequel is now the second-highest grossing film of the year, only behind only Avatar: The Way Of Water.
Studiocanal mounted its widest ever UK-Ireland release, opening Shekhar Kapur's cross-cultural romantic comedy What's Love Got To Do With It? in 630 locations. The film, which debuted at Toronto, took £1.03m for a cume of £1.08m. This translates into a location average of £1,642. It could not match Kapur's previous film, Elizabeth: The Golden Age, which opened with £1.3m in November 2007.
Warner Bros' Magic Mike's Last Dance dropped 47% across its third weekend, adding £470,000 to reach £4.9m. It has some way to go to match the £8.4m of 2012's Magic Mike and the £6.9m of 2015's Magic Mike XXL.
Breaking into the top 10 was Hirokazu Kore-eda's Broker, released by Picturehouse Entertainment. Ranking ninth, it took £105,000 from just 71 locations, translating into an average of £1,472 and recording a cume of £150,000. The Korean film, which played in Competition at Cannes last year, marks the best three-day figure for Picturehouse since The Wife in 2018. It was also 26% above the Japanese director's previous opening of £119,000 for Shoplifters in November 2019.
Disney's Avatar: The Way Of Water only dropped 33% on its 11th weekend, taking a further £357,000 to reach £76.1m and overtaking 2019's The Lion King to become the 11th highest-grossing film of all time in the UK and Ireland. It is now edging toward another James Cameron blockbuster, Titanic.
Disney's 25th anniversary re-release of Titanic added £88,000 on its third outing, bringing it to a £2.4m cume – in addition to the £80.3m grossed by the film from its original 1998 release.
Also on its third weekend was Studiocanal's French animation Epic Tails, which added £204,804 – a 39% drop from the previous weekend – for a total of £1.51m to date.
M. Night Shyamalan's Knock At The Cabin had its fourth outing for Universal, dropping 57% and adding £116,857 to reach £3m total, overtaking the director's 2015 film The Visit, which closed with £2.9m, and edging closer to the £3.4m taken by Shyamalan's previous film, Old.
Rounding out the top 10 is Universal's Women Talking, down 49% and adding £94,591 to record a cume of £630,000.
New releases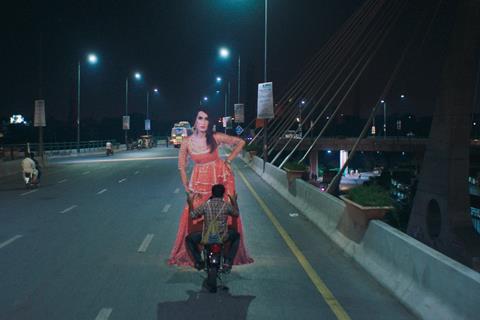 Disney's Selfiee took £50,000 after opening in 95 sites. Raj Mehta's action-comedy is led by Indian superstar Akshay Kumar.
Studio Soho Distribution opened Saim Sadiq's Joyland, taking £30,968 for a location average of £378 from 84 sites. With previews, it is now at £61,461. The Pakistan film, about a young man who becomes infatuated with a trans woman, debuted at last year's Cannes and made the Oscar shortlist for best international feature, following a temporary ban after certain scenes were cut.
BFI Distribution released Asif Kapadia's Creature and took £7,453 from 14 sites for a £532 average. It has now grossed £12,559 including previews.
Further holdovers
For Sony, Roald Dahl's Matilda The Musical added a further £82,782 to reach £27.7m from 14 weekends. It has proved a strong, notable release as the UK-Ireland is the only territory where it has received a theatrical release, with Netflix holding rights to the film internationally.
A24's awards contender The Whale added £75,377 and is up to £2.1m from four weekends.
Lionsgate's Plane took £74,118 on its fifth session, ascending to £3.61m to date.
Strengthening its position as the highest-grossing Indian film of all time in the UK and Ireland, Yash Raj Films' Pathaan added a further £56,557 on its fifth weekend to reach £4.28m.
Damien Chazelle's Babylon dropped 40% on its sixth weekend for Paramount, adding £52,000 to reach £3.85m.
TÁR dropped 30% across its seventh weekend in cinemas for Universal, with £47,634 bringing it to £2.23m total, following Cate Blanchett's best actress win at the previous weekend's Baftas.
Universal animation Marcel The Shell With Shoes On took £47,418 on its second weekend – a dip of 56% on its opening – recording an average £172 from 291 locations to reach £256,187.
Disney's Searchlight Pictures title The Banshees Of Inisherin added £38,000 (up from £25,000 the previous week), reaching £9.72m from 19 weekends.
Mubi's Bafta award-winning Aftersun added a further £20,812 – down just 10.8% – from 15 weekends, bringing it to £1.74m.
Universal horror M3GAN dropped 74% across its seventh weekend, adding £15,236 to reach £7.2m total.
On its second outing, Mario Martone's Cannes 2022 title Nostalgia took £8,088 to reach a cume of £41,964.