I Am Not Madame Bovary's Feng Xiaogang took the best director prize.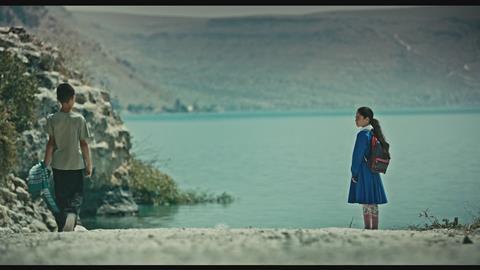 Scroll down for full list of winners
The jury of the 10th Asia Pacific Screen Awards (APSA) has awarded the best film prize to Mustafa Kara's Turkish drama Cold Of Kalandar. The film won a total of three prizes at the regional film awards, which took place tonight (Nov 24) in Brisbane, Australia.
The best director prize went to Chinese director Feng Xiaogang for his satirical critique of bureaucratic indifference to the populace of mainland China, I Am Not Madame Bovary.
Cold of Kalandar's APSA best film win comes after similar honours at the Tokyo Film Festival, and Turkey's Istanbul and Antalya film festivals.
In September it was selected as Turkey's candidate for the foreign language Oscar.
The film depicts an impoverished family's attempt to make a living through farming in Turkey's mountainous northern region. Tensions between the husband and wife come to a head when he disappears to prospect for metals in the mountains. Director Kara also received the inaugural Young Cinema Award, which recognises emerging talent within the region.
The film's depiction of poverty and despair in regional Turkey sits in stark contrast with recent claims by the Turkish government that the country is in the midst of an economic boom. When asked by Screen whether the film's bleak themes were considered to be controversial at home, Cold of Kalandar producer Nermin Aytekin replied: "Although people in Turkey have poverty to some extent, the important thing to remember is this film doesn't have a place or a time; it could be here [in Australia] or in another country, at another time."
The 2016 APSA international jury president David Puttnam said of the 24 nominated films: "It's been a remarkable privilege to find yourself looking into customs, societies, attitudes and practices that you are not necessarily familiar with".
"There were two significant things I came away with: number one was how often the issue of family occurred, the importance of family and the role of family, is an underlying theme that popped up time and time again. The other that I found really encouraging was the quite extraordinary quality of the male performances. I have never seen that number of absolutely outstanding male performances - ever. Anywhere."
The award for best actor went to Manoj Bajpayee for his performance in Indian social drama Aligarh, which dramatises the true story of Indian academic Shrinivas Ramchandra Siras, who in 2010 was fired for being gay. Filipino actress Hasmine Killip won the female acting prize for her role as a teenage mother living on the streets of Manila in Ordinary People.
Japanese writer/director Ryusuke Hamaguchi's Happy Hour won best screenplay, which Hamaguchi shares with co-writers Tadashi Nohara and Tomoyuki Takahashi. The five-hour film spends a night in the life of four 30-something women analysing their relationships. Lord Puttnam remarked that the script won the honours for "its sheer scale and energy".
Guests at the 10th APSA ceremony also learned who would receive the next round of APSA film development funding: Haifaa Al Mansour (Saudi Arabia) for Miss Camel; Joo Young Park (Republic of Korea) for Morning Star (Yeonbaek); Rolf de Heer (Australia) for Mr Ward's Incredible Journey; and Emir Baigazin (Kazakhstan) for The River. The four film-makers will each receive $25,000 to support the development of their feature film scripts.
Full list of winners:
BEST FEATURE FILM
Cold of Kalandar (Kalandar Soğuğu)
Turkey, Hungary
Produced by Nermin Aytekin
Co-produced by Ivan Angelusz, János Rózsa
BEST YOUTH FEATURE FILM
The World of Us (Woorideul)
Republic of Korea
Produced by Lee Chang-dong, Kim Soon-mo
BEST ANIMATED FEATURE FILM
Seoul Station (Seoul-yeok)
Republic of Korea
Produced by Lee Dong-ha, Suh Young-joo, Yeon Sang-ho
BEST DOCUMENTARY FEATURE FILM
Starless Dreams (Royahaye Dame Sobh)
Islamic Republic of Iran
Produced by Mehrdad Oskouei
ACHIEVEMENT IN DIRECTING
Feng Xiaogang for I Am Not Madame Bovary (Wo Bu Shi Pan Jinlian)
People's Republic of China
BEST SCREENPLAY
Ryusuke Hamaguchi , Tadashi Nohara , Tomoyuki Takahashi for Happy Hour
Japan
ACHIEVEMENT IN CINEMATOGRAPHY
Cevahir Şahin, Kürşat Üresin for Cold of Kalandar (Kalandar Soğuğu)
Turkey, Hungary
BEST PERFORMANCE BY AN ACTRESS
Hasmine Killip in Ordinary People (Pamilya Ordinaryo)
Philippines
BEST PERFORMANCE BY AN ACTOR
Manoj Bajpayee in Aligarh
India
SPECIAL MENTION FOR BEST PERFORMANCE BY AN ACTOR
Nawazuddin Siddiqui in Psycho Raman (Raman Raghav 2.0)
India
CULTURAL DIVERSITY AWARD, UNDER THE PATRONAGE OF UNESCO
Hussein Hassan for The Dark Wind (Reşeba)
Iraq, Qatar, Germany
APSA FIAPF AWARD for Outstanding Achievement in Film in the Asia Pacific region
Iranian producer Manoochehr Mohammadi
JURY GRAND PRIZE
Youn Yuh-jung in The Bacchus Lady (Jug-yeo-ju-neun yeo-ja)
Republic of Korea
JURY GRAND PRIZE
Mark Lee Ping-bing for Crosscurrent (Chang Jiang Tu)
SPECIAL MENTION: JURY GRAND PRIZE
Sunny Pawar in Lion
Australia
YOUNG CINEMA AWARD presented by NETPAC and Griffith Film School
Mustafa Kara for Cold of Kalandar (Kalandar Soğuğu) Turkey, Hungary
SPECIAL MENTION: YOUNG CINEMA AWARD presented by NETPAC and Griffith Film School
Bi Gan for Kaili Blues (Lu Bian Ye Can) People's Republic of China
MPA APSA ACADEMY FILM FUND 2016 RECIPIENTS
Haifaa Al Mansour (Saudi Arabia) for Miss Camel
Joo Young Park (Republic of Korea) for Morning Star (Yeonbaek)
Rolf de Heer (Australia) for Mr Ward's Incredible Journey
Emir Baigazin (Kazakhstan) for The River