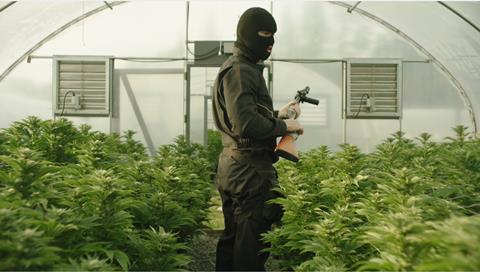 Los Angeles-based Concourse Media has boarded worldwide sales rights through its Film Trade division to the heist thriller Green Rush and will introduce to buyers at next month's virtual Cannes Marché.
Lionsgate holds North American rights and released the film digitally and on VOD on April 14, marking the second title sold by Concourse that Lionsgate has distributed in the US in the past year after the Jai Courtney crime drama Semper Fi (AKA Brothers In Arms).

Gerard Roxburgh directed Green Rush from a screenplay by Danny Acosta and Paul Telfer. The story takes place against the backdrop of the booming legalised cannabis industry in California, as a legitimate farmer fights for survival when criminals attempt to rob him of his livelihood.
Kriss Dozal (The Hill), Mike Foy (The Rookie, Dexter, NCIS), Telfer (The Vampire Diaries), Declan Michael Laird (Big Dogs), Lex Zellner (The Morning After Thrill), Michael Roddy (24) and Misha Crosby (American Horror Story) star.
UFC veteran Andre Fili makes his on-screen debut in what the producers say is one of several mixed martial arts ties to the film. Misha Crosby, Rick Lee, MMA fighter Urijah Faber, and Roxburgh served as producers.
Concourse's virtual Cannes sales slate includes documentary Woman In Motion, which looks at how Star Trek luminary Nichelle Nichols helped NASA recruit astronaut candidates.
"As the effects of COVID19 on the entertainment industry continue to evolve, we are focused on taking full advantage of the virtual Cannes Film Market and keeping a positive mindset in order to deliver finished content to distributors and bolster productivity," said Shreder.