While much attention was paid to Suffragette's starry cast at last night's BFI London Film Festival premiere, artistic director Clare Stewart and director Sarah Gavron both paid tribute on stage before the screening to the film's exceptional behind-the-camera talent - many of whom received crucial support and career development from industry skills body Creative Skillset.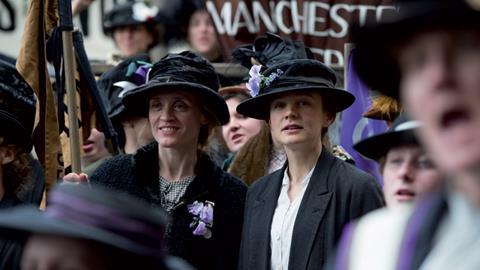 Fifteen of Suffragette's crew benefited from Creative Skillset-supported initiatives, crafted to help British film-makers build sustainable careers. Producer Faye Ward, for example - who also served as associate producer on Gavron's 2007 feature debut Brick Lane - is a 2010 alumni of the Inside Pictures film business programme, a training platform designed to provide senior EU producers and executives with international knowledge and contacts.
The film's first assistant accountant Catherine Francis completed the Production Guild's Assistant Production Accounting Scheme (APATS), which provides trainees with a tax-free allowance enabling them to gain experience on film and TV drama productions. Inside Pictures and APATS have both received substantial investment from Creative Skillset over the past decade, and have an impressive track record of success at the highest levels of the industry.
The UK training body's Film Trainee Finder programme ­– which matches trainees with companies across the animation, film, games, TV and VFX industries ­– placed 12 trainees across a number of departments on the production, including camera, costumes, hair and make-up and locations. Supported by its Skills Investment Fund, the scheme encourages industry co-investment in skills and training in order to ensure a good flow of creative talent into the industry. The paid on-set experience gives trainees the chance to learn from some of the UK industry's best craft and tech professionals. For the trainees who worked on Suffragette, the experience allowd to work alongside acclaimed actors and be part of an awards-tipped British film.