MEDIA SUMMIT: Rebecca O'Brien, producer of Cannes winner I, Daniel Blake, also criticized nepotism in the film industry.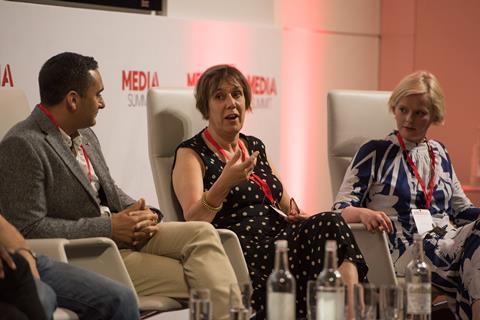 Rebecca O'Brien, a long-time producer of Ken Loach films including this year's Palme d'Or winner I, Daniel Blake, has suggested the lucrative UK tax credit could be amended to encourage more diversity in the industry.
"You could make the tax credit dependent on certain diversity boxes being ticked," said O'Brien on a Creative Skillset panel at the Media Summit, run by Screen publisher MBI.
"It would be very controversial but would certainly make a big difference."
Films of all budget levels can claim a payable cash rebate of up to 25% of UK qualifying film production expenditure and has benefitted blockbusters such as Star Wars: The Force Awakens and Avengers: Age Of Ultron.
Tim Searle, creative director at UK independent producer Tiger Aspect who successfully lobbied government for UK tax breaks around animation, backed a more diverse workforce.
"I've put together many teams in my time and having people who are all white, middle class is boring. It's about having a breadth of talent," he said.
Nepotism
O'Brien, who was speaking on a panel about developing creative talent, also criticized ongoing nepotism in the film industry. "Certainly at the upper end of the film industry, there is a real barrier to diversity in that it's almost a guild run operation," she said.
"A lot of inward investment and the studios are closed to diversity because there is still a climate where people employ their family and friends.
"That is a real problem at the upper echelons, which is a big part of the film industry. It's not nearly as bad in the independent sector. But we need to break down those barriers and find positive ways of doing so."
Asked for a solution by panel chair Seetha Kumar of Creative Skillset, O'Brien added: "It's very difficult. I wish I knew the answer."
Diversity schemes
Adeyemi Michael, an award winning documentary director who was born in Lagos but grew up in London, applauded the UK's diversity schemes but said there were changes that could be made.
"Diversity schemes are very important but there is an idea of putting everyone in the same bucket," said Michael.
"There needs to be a mechanism to say this person is good, not just because of the colour of their skin, their sexuality or gender. We should be able to say this person is ready or good enough to upscale and not down to the mere fact they've come through a diversity scheme."
'Depressing' stats for women
Also on the panel, British director and writer Lucy Brydon highlighted the "depressing" statistics for women in filmmaking.
"As a female director, it's a bit depressing when I read the statistics of women in the upper echelons of directing," said Brydon, who added that she had been "fortunate to get on certain schemes".
Brydon, whose debut feature film Sick(er) has been commissioned by Film London for their Microwave programme with support from BBC Films and the BFI, added that she was encouraged by the British Film Institute's recent pledge to help rectify the shortfall in gender equality by 2020.
"I'm excited to see the drive to 50/50 diversity by 2020," she said. "That's an important target and we need to do what we can to support that.
"You get frustrated that your voices aren't heard and you don't see your stories on screen. It has to be addressed."
Diverse crews
O'Brien added that diversity schemes need to be followed up, recalling her work on a TV series in the early days of Channel 4.
"I worked on a multi-cultural kids magazine programme for Channel 4 in the early 80s," she recalled. "I put together a really diverse crew and worked with directors from all sorts of different backgrounds.
"It was a terrific series and a perfect opportunity at the beginning of Channel 4 to give everybody a go and thought that it how it was going to be throughout my career.
"But the sad thing is, that was a one off. It didn't continue. I was lucky because I met people that I then continued to work with. That's the only way it's going to happen. That was a great idea but it hasn't continued. It needs to have follow up. It can't just be the one project."
Also on the panel was Saman Mansourpour, founder and managing director of marketing communications firm AgencyUK, who added: "Globalisation means we're marking products and services to different people, cultures and subsets all over the world and to be able to do that effectively you have to have diverse teams. There's no way of doing it otherwise.
"'Think global, act local' is more prevalent today than it ever has been."