EXCLUSIVE: Discussions to cover Brexit, animation and the state of the industry in Scotland.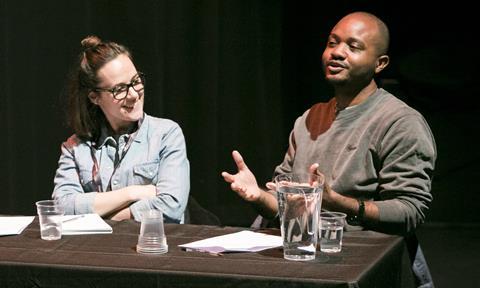 The Edinburgh International Film Festival (EIFF) has unveiled the line-up of industry events set to take place alongside this year's festival.
Industry events
The nine-day industry events program held at the Press and Industry Centre in the Traverse theatre begins with the annual EIFF Screen Summit on 21 June, in partnership with the University of Edinburgh and Creative Scotland, and in association with the BFI.
This year it will focus on two issues; the UK screen sector in Europe as the UK moves towards Brexit; and the key developments in Scotland's screen sector in the past 12 months. This session will begin with a keynote address from Fiona Hyslop, cabinet secretary for culture, tourism and external relations at the Scottish government.
Other industry events include a networking event in partnership with the BFI NETWORK and PRS for Music connecting filmmakers with producers and with composers to support future collaborations.
SDI (Scottish Documentary Institute) will moderate a discussion between fiction, documentary and animation filmmakers about the need for character driven work.
And BAFTA Scotland and Scotland Loves Anime are joining forces to present an in-conversation event with Akira's animation director, Takashi Nakamura.
Representatives from BFI, Creative Scotland, the British Council, Women in Film & TV, BFI NETWORK, PRS for Music, IMDB Pro, Creative Europe and the Scottish Documentary Institute (SDI) will take part in this year's EIFF industry programme.
DISTRIBUTION REWIRED
Distribution Rewired will return for the third year to focus on collaborations between filmmakers and newer distribution models.
Events will focus on how to make your film visible in a sea of content and, in partnership with Film Hub Scotland, the role of the film exhibitor is in relation to new models of distribution.
EIFF WORKS IN PROGRESS
EIFF Works in Progress will showcase ten of the most exciting new films from across the UK to an invited audience of sales agents, distributors, financiers and festival programmers. The line-up, which includes eight fiction films and two documentaries, includes:
Above the Clouds (Leon Chambers)
Close But No Cigar (Will and Tom Hutt)
Far From The Apple Tree (Grant McPhee)
Jellyfish (James Gardner)
Solo! (Nic Cornwall)
The Great Director (Chris Waitt)
Tiempo De Lluvia (Itandehui Jansen)
Widow's Walk (Alexandra Boyd)
Piano tTo Zanskar (Michal Sulima, documentary)
Rebel Dykes (Harri Shanahan and Sian Williams, documentary)
TALENT DEVELOPMENT PROGRAMMES
Thirty filmmakers selected from a record-breaking number of applications will take part in the four-day EIFF Talent Lab, which is supported through the Scottish Government's Edinburgh Festivals Expo Fund.
Guests attending this year's lab programme include representatives from The Bureau, Curzon Cinemas, Lionsgate, BBC Films, Casarotto Ramsay, Bankside Films and Altitude Entertainment.
2017 Talent Lab participants 2017:
Screenwriters - Morayo Akande, Bex Harvey, Kristina Heaney, Jake Mackintosh, Claire Nicol, Matt Redd
Writers and directors - Lucy Campbell, Tim Courtney, Emily Greenwood, Jane Gull, Moin Hussain, Douglas King, Mikey Murray, Louis Paxton, Bradley Porter
Producers - David Brown, Douglas Cox, Loran Dunn, Georgina French, Dave Gillies, Helen Gladders, Terhi Kylliäinen, Alysia Maciejowska, Ali Mansuri, Sophie Reynolds, Iain Simpson, Alison Sterling, Kate Turner, John Walkinshaw, Russell Would
Other events
The EIFF Ideas Lab, in partnership with Wellcome and the Beltane Public Engagement Network, will focus on comedy and science this year.
Finally, the Scottish Film Talent Network will launch a new scheme for writers moving from another medium into screenwriting supported by an event with guest speakers including Gregory Burke ('71).