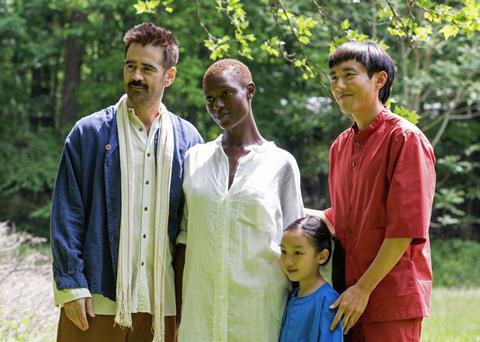 The closing night film of the UK's Edinburgh International Film Festival (EIFF), which is running August 12-20, is to be Kogonada's After Yang.
South Korean-American director Kogonada is expected to attend in-person to present the film, which is the first title to be announced from this year's EIFF line-up.
The feature is Kogonada's follow-up to his debut Columbus, and is set in a future America influenced by Asian culture, where intelligent artificial humanoids – 'techno sapiens' – are standard household items. One such family is left bereft by the loss of their android helper, Yang, played by Justin H. Min, and forced to examine their relationships with one another. Colin Farrell, Jodie Turner-Smith and Malea Emma Tjandrawidjaja star.
After Yang had its world premiere at Cannes in 2021, and won the Alfred P. Sloan Prize at Sundance earlier this year. It is produced by Theresa Park, Andrew Goldman, Caroline Kaplan and Paul Mezey. It is being released in the UK and Ireland by Sky theatrically and on Sky Cinema from September 22.
The festival's programme will also include a series of films curated by Kogonada that will give an insight into some of the titles that inspired the director when making After Yang.
The festival is celebrating its 75th anniversary this year, and its first with creative director at the helm, Kristy Matheson. Her previous role was director of film at Australia's national museum of screen culture (ACMI).
The festival's theme this year aims to pay tribute to the 1972 edition of EIFF, in which it presented the first global film event entirely dedicated to the cinematic achievements of female directors, curated by Claire Johnston, Lynda Myles, and Laura Mulvey. A statement from the festival said this year's edition seeks to "acknowledge the multiplicity and variety of feminisms in contemporary society across our entire programme with a focus on: contemporary directorial works, two large-scale retrospectives, training, and targeted professional programmes".