Oscar winner stars as Billie Jean King opposite Steve Carell.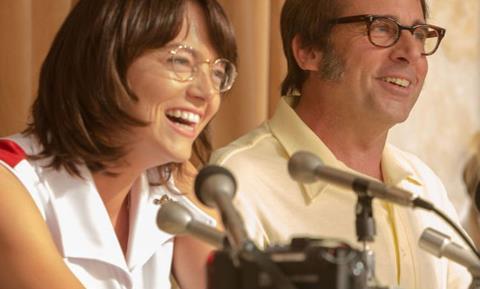 Fox Searchlight will release Battle Of The Sexes on September 22.
Stone plays pioneering Grand Slam champion female tennis player Billie Jean King, who took part in a 1973 challenge match against Bobby Riggs.
Steve Carell plays Riggs, a former player who came out of retirement after he claimed women players were inferior to their male counterparts.
Little Miss Sunshine directors Jonathan Dayton and Valerie Faris direct from a screenplay by Simon Beaufoy. Christian Colson, Danny Boyle and Robert Graf produce.
1984 director Michael Radford has got behind a theatrical re-release of the drama based on George Orwell's prescient 1949 novel about totalitarian rule in the UK, known in the novel as Airstrip One. The director will film an introduction to his timely feature and post-screening discussion that will screen at all participating cinemas when the film is re-released on April 4. To date 180 cinemas across the US have signed up.