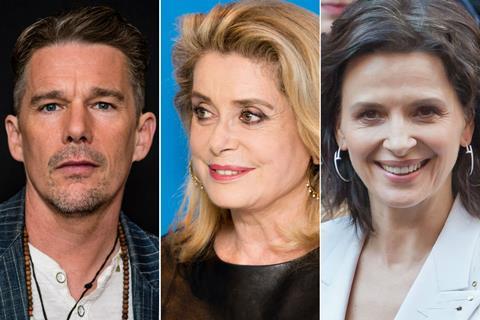 Ethan Hawke will join Catherine Deneuve and Juliette Binoche in the cast of La Verite, Japanese auteur Hirokazu Kore-eda's first project since winning this year's Cannes Palme d'Or.
Ludivine Sagnier (Swimming Pool) will also star in the France-Japan co-production, produced by France's 3B Productions and Kore-eda's Bunbuku, which marks the director's first French-language project. The film is scheduled to shoot entirely in France in October and November.
Screen previously reported in Cannes that Wild Bunch, which has a long-standing relationship with Kore-eda, is handling international sales on the project (then titled The Truth About Catherine). The film's Japanese distributor is yet to be announced.
Deneuve will star in the film as a diva actress, with Binoche as her long-suffering daughter, who had moved to the US to escape her mother but returns to France with her husband and child to help with the publication of her mother's memoirs. Hawke will play the husband and a casting process is currently underway for the child.
Kore-eda said in a statement issued today: "The cast is what I had hoped for. It's an exciting challenge to direct a film overcoming cultural and language differences."
Kore-eda won the Palme d'Or for his family drama Shoplifters, which has grossed more than $30m so far in Japan, to become the director's highest-grossing film ever in his home territory, overtaking Like Father, Like Son.