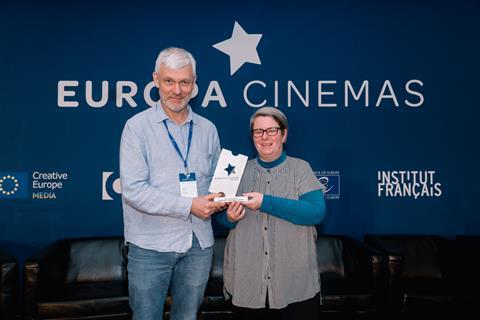 European exhibitor network Europa Cinemas has crowned three winners at the 2019 edition of its annual awards, held this year in Lisbon.
The awards celebrate the best work in the network of European arthouse theatres, which includes 1,152 cinemas (2,775 screens) in 698 cities across Europe.
The best programming award went to Kinodvor in Ljubljana, Slovenia; the award for best young audience activities was shared between two cinemas in France – Lux in Caen and Café des Images in Hérouville-Saint-Clair; and the prize for entrepreneur of the year was given to Yanaki and Christo Dermendjiev, who run the Lucky Cinema Home in Plovdiv and Cinemagic in Targovishte in Bulgaria.
Built in 1923, Kinodvor in Ljubljana has 120,000 admissions a year across two screens and has established initiatives including a Slovenian arthouse cinemas network and the Kinotrip programme to attract younger audiences. Europa Cinemas previously recognised the work of the Slovenian cinema with the best young audience activities prize in 2010, and this year honours the work of its programming team led by Metka Daris and Koen Van Daele.
This year's young audience award was shared by two cinemas located only kilometres apart in the same part of Normandy. The Lux in Caen is run by Gautier Labrusse and Didier Anne, while the Café des Images in Hérouville-Saint-Clair is run by Elise Mignot. Both cinemas invest in building activities for young people of all ages, with young audiences accounting for a third of their annual admissions.
Yanaki and Christo Dermendjiev started as cinema exhibitors in 2014 when they refurbished an old cinema in Plovdiv, transforming it into a modern three-screen arthouse cinema. Today the brothers manage a network of 12 cinemas and are the largest exhibitor of European films in Bulgaria.