The 16th edition of genre film festival unveils full line-up.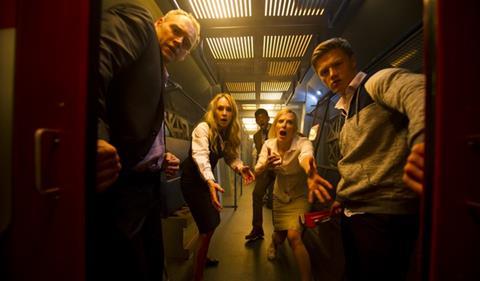 Film4 FrightFest will mark its 16th edition with its largest line-up ever, showcasing 76 films across five screens at the Vue West End in Leicester Square from Aug 27-31.
This year's line-up features 20 world premieres, a record-breaking 16 European premieres and 26 UK premieres, with 18 countries represented. In addition, there will be a further 'Discovery' strand at The Prince Charles Cinema, marking a return to the festival's original home.
As previously announced, the European premieres of Cherry Tree and Tales of Halloween will bookend this year's edition.
World premieres at this year's FrightFest include Paul Hyett's creature feature Howl, anthology A Christmas Horror Story, Steve Oram's comedy Aaaaaaaah! and Liam Regan's revenge thriller Banjo, while European premieres include Ben Cresciman's Sun Choke, Paz Brothers' Jeruzalem and Adam Mason's Hangman.
Bernard Rose's Frankenstein, Ted Geoghegan's haunted house throwback We Are Still Here, Ben & Chris Blaine's zom-rom-com Nina Forever, Jason Lei Howden's musical psycho-thriller Deathgasm, Adrian Garcia Bogliano's Scherzo Diabolico and Rodney Ascher's The Nightmare are among the UK premieres taking place at this year's edition.
Other notable titles playing FrightFest include Corin Hardy's The Hallow, RKSS' post-apocalyptic action sci-fi Turbo Kid, Bruce McDonald's Halloween horror Hellions and Paul Goodwin's documentary Future Shock! The Story of 2000AD.
This year's retrospective selection will showcase brand new restorations of Clive Barker's Hellraiser, Sergio Martino's giallo Your Vice is a Locked Room and Only I Have the Key, Brian Clemens' Hammer horror Captain Kronos: Vampire Hunter and Terry Marcel's Hawk the Slayer, among others.
Alan Jones, festival co-director, commented: "It is with great pride that we announce the line-up for the UK's biggest, best and most renowned genre festival which is now a globally recognised brand. Our 16th year sees yet another enhancement of its core mission to bring the finest in home grown and international fear to the dark heart of London's West End."
"The relationship with FrightFest is extremely important to Film4 – the channel has always been committed to bringing our audience the very best in horror, so joining forces with such a major genre event keeps us connected to the fans and filmmakers who generate all the excitement," added Julia Wrigley, head of Film4 Channel.
Festival and day passes will go on sale this Saturday [July 4] at noon and, for the first time ever, will only be available online. Guests attending the festival and this year's special events will be announced on July 24.
FRIGHTFEST LINE-UP
Aug 27
MAIN SCREEN
Cherry Tree (European premiere)
Turbo Kid (London premiere)
Stung (UK premiere)
Aug 28
MAIN SCREEN
Hellions (London premiere)
Landmine Goes Click (UK premiere)
The Diabolical (UK premiere)
Jeruzalem (UK premiere)
We Are Still Here (UK premiere)
James Wan's Demonic (European premiere)
DISCOVERY SCREENS
Afterdeath (UK premiere)
The Unfolding (world premiere)
Body (UK premiere)
The Shelter (European premiere)
Zombie Fight Club (UK premiere)
Pod (UK premiere)
Wind Walkers (world premiere)
Worry Dolls (world premiere)
Aaaaaaaah! (world premiere)
Never Let Go (world premiere)
Blood Sucking Bastards (UK premiere)
The Rotten Link (European premiere)
The Entity (UK premiere)
III (UK premiere)
Final Girl (UK premiere)
The Sand (UK premiere)
Aug 29
MAIN SCREEN
Shut In (UK premiere)
Bait (London preview)
Frankenstein (UK premiere)
Some Kind of Hate (UK premiere)
Rabid Dogs (world premiere)
Deathgasm (UK premiere)
DISCOVERY SCREENS
Tenderness of the Wolves (restoration premiere)
Madman and The Mutilator (Grindhouse double bill restoration)
Contracted: Phase II (UK premiere)
Remake, Remix, Rip-Off (UK premiere)
Future Shock! The Story of 2000AD (preview)
The Nightmare (UK premiere)
Estranged (UK premiere)
The Hallow (London preview)
Sun Choke (European premiere)
Night of the Living Deb (European premiere)
Hangman (European premiere)
Another Me (UK premiere)
Aug 30
MAIN SCREEN
Slumlord (European premiere)
Road Games (world premiere)
Inner Demon (UK premiere)
Scherzo Diabolico (UK premiere)
A Christmas Horror Story (UK premiere)
DISCOVERY SCREENS
Farhope Tower (UK premiere)
Over Your Dead Body (UK premiere)
These Final Hours (UK premiere)
Most Likely to Die (UK premiere)
Summer Camp (world premiere)
They Look Like People (UK premiere)
Captain Kronos: Vampire Hunter (restoration premiere)
Hawk the Slayer (restoration premiere)
Your Vice is a Locked Room and Only I Have the Key (restoration premiere)
Hellraiser (restoration premiere)
The Reflecting Skin (restoration premiere)
Aug 31
MAIN SCREEN
Curve (UK premiere)
Night Fare (UK premiere)
Nina Forever (UK premiere)
Emelie (UK premiere)
Tales of Halloween (European premiere)
DISCOVERY SCREENS
Banjo (world premiere)
Hostile (UK premiere)
Bite (UK premiere)
Curtain (world premiere)
The Lesson (world premiere)
Howl (world premiere)
Awaiting (UK premiere)
Goddess of Love (UK premiere)
The Lazarus Effect (UK premiere)
Suspension (UK premiere)
Last Girl Standing (world premiere)