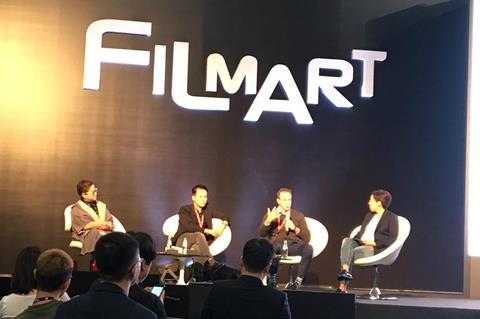 South Korea's CJ Entertainment has unveiled a slate of 14 local-language productions scheduled for release this year, including three new Thai-language titles.
Like the rest of CJ's global production line-up, the Thai projects are co-productions with a local partner – in this case Thai exhibitor Major Cineplex, with which the Korean giant formed Bangkok-based joint venture CJ Major in 2016.
The three new Thai productions are Thatchaphong Suphasri's Classic Again, a remake of 2003 hit The Classic; Wirat Hengkongdee's romantic comedy Our Love Forever; and romantic drama That March from Chookiat Sakveerakul (The Love Of Siam).
CJ's full production slate includes titles for release in the US, Turkey, Thailand, Indonesia and Vietnam. "Our global productions are fully local-language films. We develop the projects with local creators, package the key cast and crew and distribute them worldwide," said CJ E&M chief producer Yeonu Choi. She is in charge of all global productions excluding the US and China.
"There're many barriers such as the language," Choi added. "But the more you start making films outside Korea, the more it drives us to challenge ourselves and makes us think outside the box. About 30% of the global productions are remakes of CJ's IP, while about 70% are productions based on original local stories or unmade Korean scripts. We've produced seven Miss Granny films in the past four years, and the fourth creation of Sunny will start filming this month in Indonesia."
According to Jerry Ko, CJ E&M's head of international department, the studio has produced 50 global productions since 2010, including five Vietnamese films, which are ranked among the top 10 local films of all time at the Vietnamese box office.
CJ also hosted a panel discussion on global film production, with Ivanhoe Pictures' Michael Hogan, mm2 Entertainment's Ng Say Yong and Base Entertainment's Shanty Harmayn. Both Ivanhoe and Base are CJ's co-production partners for Satan's Slaves director Joko Anwar's latest horror thriller Impetigore.