Filming has begun on the project, which is based on Victor Headley's cult novel.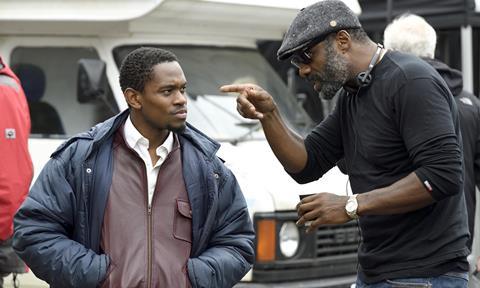 The first image from Idris Elba's directorial debut Yardie has been released.
Studiocanal announced today (16 March) that principal photography has started on the film, based on Victor Headley's cult novel.
Yardie stars Aml Ameen (The Maze Runner) in the lead role of 'D', with Stephen Graham and Elba playing supporting roles.
The film will introduce Jamaican actors Shantol Jackson, Sheldon Shepherd and Everaldo Creary.
Yardie will shoot on location in London and Jamaica for seven weeks and is financed by Studiocanal, BFI, BBC Films and Screen Yorkshire.
It follows the story of a young Jamaican named 'D' who, on arriving in early 1980s London, unexpectedly finds the young man who assassinated his revered brother back in Jamaica ten years before. His quest for justice explodes into a violent street war that could end up killing him and his loved ones.
Idris Elba said: "I am interested in making human stories with characters that are either, full of grace or flawed. In Yardie the audience will see a film that hopefully means something to the people. I'm honoured to able to shoot it in my home town of London and as a guest in Jamaica."
The film was adapted for the screen by Brock Norman Brock (Bronson) and Martin Stellman (Babylon, Queen And Country). It is produced for Warp Films by Robin Gutch ('71, Hunger) and Gina Carter (Heartlands, Dead In A Week, Snow Cake).
Executive producers are Dan MacRae and Danny Perkins for Studiocanal, Mary Burke and Ben Roberts for BFI, Joe Oppenheimer for BBC Films, Hugo Heppell for Screen Yorkshire, Mark Herbert for Warp Films, and Idris Elba.